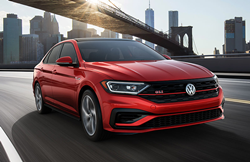 WOODBRIDGE, Va. (PRWEB) June 27, 2019
The release of the new, powered-up version of the Volkswagen Jetta, the 2019 Volkswagen Jetta GLI, has been highly anticipated in the automotive industry. To help get to know this newly available turbocharged sedan, one local dealership has published multiple model research pages to its website, each of which explores different aspects of the new Jetta GLI. The dealership, Karen Radley Volkswagen, is located in Woodbridge, Virginia, and caters to the greater Washington DC area.
Among the pages published to the Karen Radley Volkswagen website are a model review of the new 2019 Volkswagen Jetta GLI, which covers its specs and features, as well as a trim comparison, which looks at the differences between the various trims available for the Jetta GLI. As if that weren't enough, readers can also peruse a model comparison which pits the new 2019 Jetta GLI versus the traditional Jetta, to give shoppers an idea of how the two differ.
Those interested in viewing these model research pages can do so on the Karen Radley Volkswagen website at http://www.karenradleyvw.com. Additional model information can also be accessed on the dealership website via its blog, as well.
Shoppers interested in getting behind the wheel of the new 2019 Volkswagen Jetta GLI are encouraged to reach out to dealership staff to set up a test drive. Karen Radley Volkswagen representatives can be reached on the website, by calling 833-243-5895 or by visiting the dealership's location on 14700 Jefferson Davis Highway.