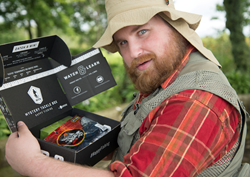 This year, with the big national retailers opting not to sell products on the floor, we had an opportunity for Karl's to capture a larger share of the audience's attention - Geoffrey Champlin, VP of Direct to Consumer Business Unit at Catch Co.
CHICAGO (PRWEB) March 02, 2020
Karl's Bait and Tackle, a leading online tackle retailer, part of The Catch Company, is gearing up for an expanded presence at this year's Academy Sports + Outdoor Bassmaster Classic®, presented by Huk. The top anglers in the world will compete this week on Lake Guntersville for the title of Bassmaster Champion, and $1 million purse, while consumers at the Birmingham-Jefferson Convention Complex are captivated with the products showcased by more than 200 companies from across the world.
The Expo will feature hundreds of new and innovative consumer products, for the tens of thousands of attendees expected to descend on Birmingham, Alabama, from all over the region. Karl's Bait and Tackle will have one of the larger booths on the show floor and for the first time, consumers will be able to purchase in-person from Karl's. One of the key features of Karl's Bait and Tackle is the Karl's Club membership program, which is normally $49 per year. This week, every attendee who visit booth #4130 will be treated like a Club Member, receiving 50% off rods and reels, 30% off all other items available, including exclusive Googan Squad apparel.
"This year, with the big national retailers opting not to sell products on the floor, we had an opportunity for Karl's to capture a larger share of the audience's attention. We're excited to welcome new consumers to the Karl's Club experience by allowing them to participate in our Club program, at no cost for the weekend. We've also brought back our "Swag Swap" vending machine where attendees can trade in anything they get at the show for something better. We believe that after consumers experience what we are all about in person, they'll be even more excited to engage with our growing online community," says Geoffrey Champlin, who leads Catch Co.'s Direct to Consumer business units.
On top of their expanded retail experience, members of Karl's product team will be leading product demonstrations and sharing insights on product development and innovation. The Catch Co. has launched about a half dozen unique brands into the market in the last year, and the show is a chance to share the nuance of some of those innovative product lines with anglers, as well as what's on the roadmap for the rest of 2020.
"We're also very excited to give attendees the chance to meet some of their favorite fishing influencers, including members of the Googan Squad, Lojo from Lojo Fishing, on YouTube, Pro Fisherman and YouTube influencer Brian Latimer, as well as others making an appearance," says Eli Rosenberg, Director of PR and Media Partnerships for Catch Co. Visit Karl's, booth #4130, on Saturday to meet the Googan Squad, and Sunday to meet Lojo and Brian Latimer.
Mystery Tackle Box, the original and #1 rated fishing tackle subscription, another business unit within Catch Co., will have a presence at the Karl's Bait and Tackle booth as well. Consumers will be able to purchase individual MTB's and get a sense of what they can expect when they subscribe. Attendees will receive a special offer for their first order from Mystery Tackle Box by stopping the booth.
About The Catch Company
The Catch Company is on a mission to rescue people from the indoors. Our goal is for every Angler in America to fall in love with one of our brands. We have a unique approach to commerce and community to feed anglers' endless appetite for product innovation, experimentation, discovery, learning, nature, and of course…fishing! Press inquiries, please contact Eli Rosenberg, eli.rosenberg@catchco.com, 716-293-9086 ext 68411.