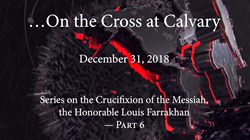 Karriem Allah shows why the concepts of "being crucified" and "giving up the ghost" do not imply death as many Biblical scholars have presumed in their explanations of this prophecy…
NEWARK, Del. (PRWEB) March 05, 2020
In this Message, Karriem Allah discusses the current fulfillment of the prophecy of Jesus' martyrdom on the cross at Calvary—in the life of the Honorable Louis Farrakhan. He explains the concept of the "Passion of Christ" that most Biblical scholars refer to in summing up the purpose of the suffering that Jesus experienced in his journey from the Garden of Gethsemane to Calvary.
Karriem Allah parses verses 13-30 of the 19th chapter in the Gospel of John (Kings James Version). He explains how these verses correlate with the events involving the Honorable Louis Farrakhan, specifically the origin and nature of the prevailing controversies surrounding His Messianic Ministry.
Karriem Allah shows why the concepts of "being crucified" and "giving up the ghost" do not imply death as many Biblical scholars have presumed in their explanations of this prophecy, which they erroneously regard as history. He explains how these concepts refer to the completion of the Messiah's work as the redeemer of humanity—prior to His ascension to the Throne of God to function as the Christ. In its fulfillment, Karriem Allah shows how this refers to the Honorable Louis Farrakhan's imminent departure to the Great Mother Plane to serve in His next Messianic Assignment as the Christ.
Karriem Allah draws attention to the "one more thing" that the Honorable Elijah Muhammad told the Honorable Louis Farrakhan that He must accomplish before His departure to the Great Mother Plane to meet face-to-face with the Honorable Elijah Muhammad. This aligns with the fulfillment of the prophetic Gospels, where Jesus states while on the cross, the phrase: "it is finished."
Karriem Allah provides the meaning of several acts that occurred while Jesus was on the Cross, such as the parting of his raiment; receiving a crown of thorns; and being given vinegar to quench his thirst. He describes how these scenes manifest in the Honorable Louis Farrakhan's Messianic Mission.
This lecture, "…On the Cross at Calvary," is part of the Series on the Crucifixion of the Messiah, the Honorable Louis Farrakhan and is available on Karriem Allah's Vimeo and Youtube channels, and his website.