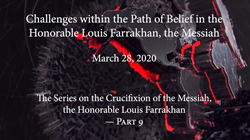 Karriem Allah explains how envy has plagued humanity, causing horrors of persecution and injustice. He explains why it is important to recognize the misdeeds of envious people;…
NEWARK, Del. (PRWEB) March 31, 2020
Using the Holy Quran 3:52-54 and the Gospel of John 6:59-64 as the root of his Message, Karriem Allah discusses how many of Jesus' disciples disbelieved in essential aspects of his teachings, leading the way for their negative involvement in his crucifixion. Karriem Allah shows how the pivotal point of the disciples' belief in Jesus surrounded his relationship to God, the Father—specifically how Jesus claimed to be directly from the Presence of the Father.
Karriem Allah further explains how the "Jesus" depicted in the Gospel of John is fulfilled through the life of the Honorable Louis Farrakhan. He correlates several scenes in the prophetic narrative delineated in the Gospel of John with its fulfillment through the Honorable Louis Farrakhan's proclamations that He was brought to the Great Mother Plane by the Honorable Elijah Muhammad in 1985, and that He is destined to return very soon to the Great Mother Plane to see the Honorable Elijah Muhammad.
Karriem Allah provides several reasons why Allah, in the Person of Master Fard Muhammad, has not flaunted the Great Mother Plane for all to clearly observe and see. He further explains that, in addition to the Great Mother Plane; the Messiah, the Honorable Louis Farrakhan, represents the clearest Sign of the Presence of Almighty God, Allah.
Karriem Allah further explains that the harsh slander against the Honorable Louis Farrakhan, for many decades, is driven by those filled with envy for His accomplishments and His esteemed position of honor and reverence throughout the world.
Karriem Allah explains how envy has plagued humanity, causing horrors of persecution and injustice. He explains why it is important to recognize the misdeeds of envious people; and to adopt methods to avoid being victimized by the schemes of envious people, especially as it pertains to judging others according to what envious persons have said about those others.
Karriem Allah explains how the prophetic narratives of the prophets provide insight into the Crucifixion of the Messiah, because the Messiah fulfills the most controversial scenes described about the prophets' lives. Karriem Allah raises the Davidic narrative of the Bible as an example to show the love/hate relationship that people have had with David, based on this narrative. Karriem Allah explains that since David is the prototype of the Messiah, then it is necessary to know the correct interpretation of the Davidic narrative to understand why Jesus' actions were misjudged by the people.
This lecture, "Challenges within the Path of Belief in the Honorable Louis Farrakhan, the Messiah," is part of the The Series on the Crucifixion of the Messiah, the Honorable Louis Farrakhan is available on Karriem Allah's Vimeo and Youtube channels, and his website