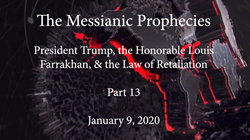 Karriem Allah raises the notion that in the absence of deliberation by U.S. federal branches of government over proposed military measures against foreign countries, the actions of the Office of the U.S. Presidency are presumably dictatorial—
NEWARK, Del. (PRWEB) January 10, 2020
Referencing the guidance for proper human affairs described in the Holy Quran, Karriem Allah explains the moral, ethical, legal and divine tenants that required President Donald Trump to consult with the U.S. Congress, the United Nations, and the Iraqi Government before taking military action against the Iranian Government through the murder of an Iranian official, General Qasem Soleimani. Karriem Allah, drawing attention to the prevalent confrontations between President Trump and the U.S. Congress over the subject of limits of authority, explains how various Congressional acts within the past two decades have notably diminished the general Constitutional requirement that military actions against foreign countries be vetted through the U.S. Congress.
Karriem Allah raises the notion that in the absence of deliberation by U.S. federal branches of government over proposed military measures against foreign countries, the actions of the Office of the U.S. Presidency are presumably dictatorial—thereby, potentially allowing a single individual the power to determine the fate of the United States and its citizenry.
Karriem Allah also sheds light on the crisis of national illiteracy among Americans and how this scourge may abet the ever-increasing publicized friction between the U.S. Congress and the Office of the Presidency. He cites the following from the Fox News article, "Illiteracy is a National Emergency Unfolding Across America, and It's Only Getting Worse":
"While people argue over the president declaring the situation at the border a national emergency, they ignore the national emergency in every town and school district in America. More than 30 million Americans cannot read or write above a third-grade level."
Karriem Allah suggests how this unfortunate crisis bears on the notion of voter competency and the public's ability to properly assess the state of democracy in the United States.
Karriem Allah devotes the remainder of his 50-minute lecture to explaining the fulfillment of the function of the Christ in the future work of the Honorable Louis Farrakhan; and how this may assist governments of nations in resolving their internal conflicts for the betterment of their citizenry and humanity, at large.
This lecture, "President Trump, the Honorable Louis Farrakhan, & the Law of Retaliation," is part of the series, The Messianic Prophecies; and it is available on Karriem Allah's Vimeo and Youtube channels, and his website.