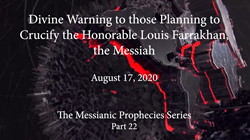 Karriem Allah describes several reasons why the Messiah, the Honorable Louis Farrakhan, is styled as the "she-camel" in the Quranic narrative of Thamud; and as a "lamb" in the New Testament…
NEWARK, Del. (PRWEB) August 20, 2020
In this recent Message, Karriem Allah parses several prophetic narratives in the Holy Quran, describing how these events are being fulfilled today in the Life of the Messiah, the Honorable Louis Farrakhan.
Karriem Allah explains how and why the Messiah is referred to in the Holy Quran as that divine warner "sent to admonish a people who never received a divine warner" (Sura 32:3). He shows how both the Honorable Elijah Muhammad and the Honorable Louis Farrakhan were raised by Allah, the Supreme Being, to serve as divine warners to their own people, as well as to the Caucasian people who already received many divine warners within the last 4,000 years.
Karriem Allah delineates the purpose for divine warners; and as such, sheds significant light on why—according to the Holy Quran—Allah's anger was kindled against those who mistreated, even threatened to harm, HIS divine warners. Karriem Allah explains how this Reality is consequential to how the Honorable Louis Farrakhan is regarded by the political leaders of the United States and by leaders of other nations.
Karriem Allah describes several reasons why the Messiah, the Honorable Louis Farrakhan, is styled as the "she-camel" in the Quranic narrative of Thamud; and as a "lamb" in the New Testament of the Bible. Karriem Allah explains how the Holy Quran's narrative of Salih and the Bible's narrative of Jesus' crucifixion, being one in the same, sets the expectation of the events that ensue following the grave persecution of the Messiah. Karriem Allah petitions the intervention of Allah, the Supreme Being, to provide a sample of these events, as a means of demonstrating the magnitude of what has been prophesied.
This lecture, "Divine Warning to those Planning to Crucify the Honorable Louis Farrakhan, the Messiah," is part of the The Messianic Prophecies Series and is available on Karriem Allah's Vimeo and Youtube channels, and his website.