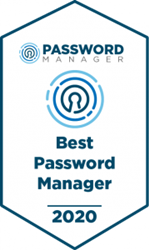 MOUNTAIN VIEW, Calif. (PRWEB) July 29, 2020
PasswordManager.com, a dedicated source for internet safety and password security, has named Kaspersky Password Manager to its list of top password management platforms for 2020. Researchers recognized 20 software companies, and each was selected based on encryption, device compatibility, unlimited storage, and added features.
Companies were required to have the most up-to-date security features including high-level data encryption, and limited the assessment to platforms that are compatible with various devices, operating systems, and browsers. Kaspersky Password Manager was acknowledged as the Best All-Around Security Solution. Additional requirements such as unlimited password storage, and the ability to sync an unlimited number of devices were also examined.
The online guide highlights top features to consider when choosing a password manager, including a variety of free and paid options, pricing, and expert feedback. To access the complete list of top password management systems, please visit https://www.passwordmanager.com/best/
ABOUT KASPERSKY PASSWORD MANAGER
Kaspersky Password Manager works across multiple platforms, giving users the flexibility to sync data across as many devices as they want. Features include autofill, warnings about weak or duplicate passwords, and a password generator that creates and remembers strong, randomized passwords. The Premium version protects an unlimited number of passwords, bank card details and documents, such as passport, driver's license and medical records. As you'd expect from one of the world's leading cybersecurity vendors, all data is secured with 256-bit AES encryption.
ABOUT KASPERSKY
Kaspersky is a global cybersecurity company founded in 1997. Kaspersky's deep threat intelligence and security expertise is constantly transforming into innovative security solutions and services to protect businesses, critical infrastructure, governments and consumers around the globe. The company's comprehensive security portfolio includes leading endpoint protection and a number of specialized security solutions and services to fight sophisticated and evolving digital threats. Over 400 million users are protected by Kaspersky technologies and we help 250,000 corporate clients protect what matters most to them. Learn more at http://www.kaspersky.com
ABOUT PASSWORDMANAGER.COM
PasswordManager.com is a leading authority in password security. Consumers can access free resources to help secure their personal identity and select effective password management systems. The company is led by a team of analysts, researchers, and experts that are committed to increasing awareness about internet safety. To learn more, visit https://www.passwordmanager.com/