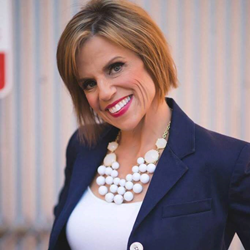 "Beauty comes in all shapes and sizes. The Fitness America pageant is a great place to celebrate our unique beauty and gifts the Living Sexy Fit way!"
New York, New York (PRWEB) October 15, 2014
Kate McKay is no stranger to Fitness America pageants. She began competing in them over a decade ago in 2003. Last year alone, she competed in Fitness Universe in Miami, and Fitness America in Foxwoods and Vegas, placing in the top three in each pageant. However, on October 18, McKay will compete in her first-ever Fitness America New York City.
McKay, who is also known as the Master Motivator, is a multi-million dollar business owner, transformational speaker, business consultant, and entrepreneur. She's also made a name for herself as a coach, fitness guru, and author; her book Living Sexy Fit works to inspire readers to get fit and stop making excuses for living a life they don't enjoy. McKay states that her book is in line with what she feels are the values of Fitness America: "Beauty comes in all shapes and sizes. The Fitness America pageant is a great place to celebrate our unique beauty and gifts the Living Sexy Fit way!"
The Fitness America competitions allow women to compete in the fitness arena while maintaining the glamour of a professional stage production. McKay loves to take part in these competitions, which occur nationally and internationally, for many reasons. "The competitors are diverse women from all walks of life, and everyone is extremely supportive of one another," she says. She also cites the promotion of health and wellness as important to her, and the Fitness America competitions' positivity, and support self-confidence as reasons she's proud to take part.
It's no wonder McKay values these aspects of Fitness America: it's become her life's work to motivate others to live breakthrough lives. At age 51, McKay seeks to inspire other women to live fully with self-confidence, passion and joy. She is excited for the competition, which will take place at the Queens Theatre in Queens, New York.
Kate McKay
Committed and passionate about helping people to live their purpose, Kate, author of the book Living Sexy Fit…at any age! believes "living sexy" is choosing to live a life of vitality, passion, and confidence. Kate motivates people by showing them how to embrace their own sense of prosperity, living their biggest, boldest and wildest dreams, and letting go of negative self-talk and feelings of unworthiness so you too can live a life all-out.