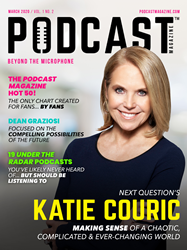 We're taking it all on and aim to be the source people can trust to help delineate fact from fiction.
SAN DIEGO (PRWEB) March 05, 2020
In PODCAST Magazine's March issue, legendary journalist Katie Couric discusses her transition from broadcast journalist to digital media entrepreneur with the launch of her own media company, Katie Couric Media, and her popular podcast, "Next Question with Katie Couric" (iHeartRadio).
In the cover story, "Making Sense of a Chaotic, Complicated and Ever-Changing World," written by editor-in-chief Steve Olsher, Couric shares personal insights into some of her biggest life and work challenges, as well as the purpose-driven intention fueling her media company, which "explores the people, movements and issues changing our lives and redefining our world."
Through her podcast, which launched in September 2019, Couric continues to unpack today's most complex and important topics with episodes exploring America's staggering maternal mortality rate to the ABC's of CBD. Couric interviews a diverse set of experts in her quest to distill the truth for her audiences.
Couric also interviews some of the biggest names in news and popular culture today, like Greta Gerwig, Ronan Farrow, Julie Andrews and Jennifer Garner, and recently launched a live version of "Next Question," centering on conversations with some of the buzziest companies in business and entrepreneurship.
In the interview, Couric said of entrepreneurship in media, "To thrive in this business, one must have a certain 'sixth sense.' It's imperative to know in your gut what your next best move is. And, you have to let empathy guide you when someone is talking about a deeply personal matter. We're taking it all on and aim to be the source people can trust to help delineate fact from fiction."
"Next Question with Katie Couric," produced by iHeartRadio, can be heard on all major podcasting platforms.
PODCAST MAGAZINE OFFICIAL LAUNCH EVENT
Last month, publisher and editor-in-chief Steve Olsher announced the launch of PODCAST Magazine, the new podcasting culture and lifestyle publication that goes "beyond the microphone" and into the lives of the leading podcasters that fans love.
The magazine will feature its official launch event at The New Media Summit on March 9, 2020, in San Diego, California. Taking place from 7:00 -10:00 p.m. (PST) at the Hilton Doubletree on Hazard Drive. Tickets are available at PodcastMagazine.com/party.
The publication will also release its newest monthly, fan-driven "HOT 50" monthly categorical chart at the event. The "HOT 50" is the only chart created by podcast fans…for podcast fans.
Upcoming features include top podcasters Jordan Belfort (April cover), Adam Corolla, John Lee Dumas, Marie Forleo, Jillian Michaels, Ed Mylett, Dave Ramsey and Jocko Willink, among others.
Initial distribution is primarily digital, available via iOS and Google distribution platforms, with a limited print run for each issue. The monthly magazine is available for a free lifetime digital subscription for a limited time at PodcastMagazine.com.
About PODCAST Magazine
Launched in January 2020 by Steve Olsher—entrepreneur, podcaster and New York Times bestselling author—PODCAST magazine is the preeminent lifestyle publication covering podcasts, podcast culture and the podcasters fans love—taking readers "beyond the microphone," behind-the-scenes and into the lives of today's leading hosts and producers. Each month, a curated team of dedicated writers, podcasters and industry authorities share personal interviews, the latest top podcasts, podcasting products, tools & platforms, and industry happenings—as well as PODCAST Magazine's exclusive fan-driven, monthly categorical chart, "HOT 50." The magazine also features independent ratings and reviews for under-the-radar shows, while sharing growth, traffic and monetization strategies for professional podcasters.
Instagram: @thepodcastmag
Twitter: @thepodcastmag
Facebook: https://www.facebook.com/thepodcastmag