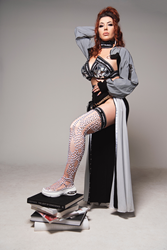 If you want all eyes on you, wear ILLUSIONATTI sneakers by Russian Roulette. They are a perfect combination of streetstyle comfort and dazzling glamour. Pre-orders for ILLUSIONATTI sneakers are accepted on the Russian Roulette website: https://www.iloverussianroulette.com.
LOS ANGELES (PRWEB) November 21, 2019
Katya Roulette, the founder of celebrity-favorite fashion label Russian Roulette, whose designs have been spotted on stars including Cardi B, unveiled ILLUSIONATTI sneakers today. The revolutionary addition to the brand's footwear line, ILLUSIONATTI sneaker consists of a platform base and a stocking-style top with Russian Roulette signature logo band. The thigh-high top is made of resilient 4-way stretch fabric or durable mesh and embellished with lace, mirror-effect apliqué or crystals. Designer Katya Roulette opted for an unconventional way to launch the new product and modeled the ILLUSIONATTI sneakers herself in a series of Instagram videos. In less than a week, the posts scored over 100,000 views and hundreds of excited comments. The sneakers are currently available for pre-order on the Russian Roulette website: https://www.iloverussianroulette.com.
Founded in 2013 by young Russian immigrant Katya Roulette (Katya Peskisheva), Russian Roulette quickly has grown into one of the most recognizable stagewear labels, best known for its crystal-embellished bodysuits, gowns with mirror-effect applique, and bodycon "contour" dresses. Innovative fabrics and flattering silhouettes are the cornerstones of the brand's success. "At Russian Roulette, we developed a way to imprint unique patterns on our 4-way resilient stretch fabrics to give our customers that contoured look they crave - and finish it off with the stunning embellishments that we are known for. Brilliant crystals, glorious stones, shimmering metallics, these are the decorative elements meant to turn heads…It's these fantastic details that make Russian Roulette incredibly Instagrammable," says Katya Roulette.
In addition to over 100,000 followers on Instagram (@katyaroulette), Russian Roulette star-studded client list includes WWE wrestlers Sasha Banks and Zelina Vega, TV personalities Juju Casteneda and Joseline Hernandez, several cast members of RuPaul's DragCon, and celebrity chef PreMadonna among others. In 2017, Katya Roulette designed the iconic Aqua bodysuit that was recreated by fashion labels worldwide and championed by a plethora of celebrities, including American rapper Cardi B and Nigerian artist Emma Nyra.
Pre-orders for ILLUSIONATTI sneakers are accepted on the Russian Roulette website: https://www.iloverussianroulette.com.
About Katya Roulette:
Katya Roulette (Katya Peskisheva) is the American fashion designer best known for her label Russian Roulette and its coveted rhinestone-embellished bodysuits. Born in Izhevsk, Russia, Katya spent much of her early life in Odessa, Ukraine. At the age of 20, she moved to the United States to study at the International Academy of Design & Technology (IADT). Prior to launching her own brand, Katya collaborated with Style Fashion Week, a Los Angeles-based producer of globally recognized fashion events and Big Gates Records music label. In 2013, Katya established her label Russian Roulette, opened her first brick and mortar store, and reached over 500K in revenue. In 2019, Russian Roulette closed its physical stores as a result of the decision to focus entirely on e-commerce.