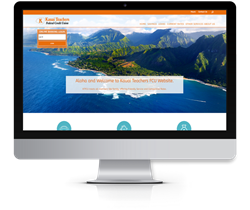 Our new website looks great and the feedback from our members has all been positive. The process was fast, easy and straightforward. I fully recommend OMNICOMMANDER to anyone looking to update their website! - Conrad Rualizo
MIRAMAR BEACH, Fla. (PRWEB) August 29, 2018
OMNICOMMANDER, the award winning, leading financial technology firm specializing in ADA compliant website design, social media, branding and marketing for credit unions; announced today that Kauai Teachers Federal Credit Union has successfully launched its new website, designed and hosted by OMNICOMMANDER.
OMNICOMMANDER has clients in 40 different states, but Kauai Teachers Federal Credit Union is the financial technology firm's first Hawaiian Credit Union. With two other Hawaiian websites set to go live in the next month, Kauai Teachers FCU is the start of a loving relationship with Hawaiian Credit Unions.
OMNICOMMANDER Founder and CEO Eric Isham said, "I am thrilled to announce that our first Hawaii credit union is now live. Working with Conrad was a breeze. He was extremely laid back and knew exactly what he wanted during the entire process. I really feel like we've captured the spirit of what the credit union was looking to accomplish and it is certainly a one of a kind, Hawaiian website. We've experienced an incredibly warm reception from several of the Hawaiian credit unions and I'm personally looking forward to many more going live."
Kauai Teachers Federal Credit Union CEO Conrad Rualizo said "We were in need of a new website and when I found out about OMNICOMMANDER and the work they are doing for credit unions, I was 100% in. Our new website looks great and the feedback from our members has all been positive. The process was fast, easy and straightforward. I fully recommend OMNICOMMANDER to anyone looking to update their website!"
About OMNICOMMANDER
OMNICOMMANDER is a veteran owned and operated credit union website design, social media and marketing firm. With a focus on member experience, the company ensures every touchpoint has the exact same user interface. Along with incredible design, OMNICOMMANDER creates sites with built-in mobile responsiveness, SSL encryption while observing ADA guidelines on accessibility for disabled members.
For more information, visit OMNICOMMANDER on LinkedIn, Twitter, Facebook and Instagram.
About Kauai Teachers Federal Credit Union
Kauai Teachers Federal Credit Union is a member-owned, non-profit financial cooperative whose members are owners and savers, as well as potential borrowers. Demonstrating the philosophy of "People Helping People," members pool their money by purchasing shares, thus making low-cost loans and other financial benefits available to all members. Interest received from loans go back to members in the form of dividends and other beneficial services. The mission of Kauai Teachers Federal Union is to Serve, Create and Maintain for our members favorable and competitive financial services. Teachers and employees of County of Kauai Schools and their immediate family members are eligible for membership.