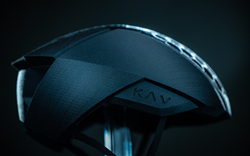 A made-to-measure custom fit is the foundation for uncompromising performance.
REDWOOD CITY, Calif. (PRWEB) June 08, 2021
KAV, the pioneer in 3D printed hockey helmets, announced today its all-new KAV Bike Helmet. Priced for a limited time at $275 (retail $375) as part of their Kickstarter campaign, KAV brings all the protection of their Hockey Helmet to the road. KAV Bike Helmet uses additive manufacturing, material science and software to free cyclists from the compromises of traditional injection molded foam helmets.
KAV starts by sending a fit kit that allows users to submit a series of measurements from the comfort of their homes. Their machine learning algorithms take these measurements to render a virtual version of the user's head. They generate a custom bike helmet from these measurements and send it to their 3D printers for production, creating a single, unique helmet, built precisely to the user's head size and shape. A technician hand finishes the helmet for the ultimate blend of high-tech, hand craftsmanship.
A made-to-measure helmet provides significant advantages to cyclists beyond the customized fit. Combined with a patented energy management system and proprietary materials, the helmet is slimmer than a traditional helmet. The reduction in the frontal area of the helmet reducing drag without compromising cooling. The removal of excess material and obviating the need for a traditional fit system results in a lightweight helmet.
"Despite a market where every aspect of the cycling from gearing to saddle position is tuned for maximum performance, cyclists have had to settle for a few sizes fits all mentality to protect the most important part of the body," said Whitman Kwok, KAV CEO. "The KAV Bike Helmet continues our tradition of creating a helmet that's uncompromising in performance and protection, made possible by our made-to-measure fabrication technology. My KAV replaces and bests my previous aero helmet and my vented road helmet while the additional occipital coverage is perfect for providing extra protection for my gravel adventures."
The KAV Bike Helmet is designed and engineered to meet the most demanding riders across road, gravel, and XC mountain biking:

Made to Measure Fit – No more compromising aesthetics, safety or comfort by choosing between a limited number of sizes. KAV offers over 7 billion sizes for every man, woman and child on the planet.
Uncompromising Protection – Our hex based compression structure is up to 20% lighter than EPS foam and more efficient at absorbing impact energies. While foam is isotropic, 3d printing enables optimizing the energy management system to crumple and shear reducing rotational accelerations associated with concussions.
Cool – The open-air hex structure maximizes airflow across the entire head and not just at vent or channel locations. Our proprietary polymer conducts heat away from the head up to 8X better than the foam it replaces. ● Lightweight – Since each helmet is custom fit, there's no excess material. The KAV Bike helmet weighs less than 300g in virtually any size, despite having more coverage than a typical road helmet.
Aerodynamic – A custom fit helmet reduces the frontal cross-section by up to 14%, resulting in a proportional reduction in drag without any corresponding penalty in cooling.
Durable – Unlike foam that dents and degrades over time, the TPU from the KAV helmet has its roots in hockey so it can take any tumbles off the bike handlebars or falling from your trunk and protect riders when they need it most.
Eliminates Waste – making products custom for individual consumers dramatically reduces waste. By enabling a made-to-order model, KAV makes only what's needed, reducing the impact on the planet. A five- year warranty and increased durability also translates into fewer replacements.
Made in the USA – KAV helmets are not only designed and engineered in the USA, but every helmet is 3D precision printed within 50 micrometers and then hand-assembled and tested in Redwood City, California. All the raw materials are also domestically sourced.
The KAV Bike Helmet is built as a natural extension of the rider and is backed by KAV's industry-leading 3D Triple Promise:
1. Guaranteed to Fit – Customers have 30 days to confirm it's the best fitting helmet they've ever owned.
2. Five-Year Warranty – Better materials, engineered to perform and made in the USA, KAV stands behind each and every helmet.
3. Crash Protection Policy – If a rider crashes, they can return the helmet that saved their life and get 50% off their next KAV.
Because each helmet is made to order, KAV is using Kickstarter to forecast demand and ramp up production. Riders who want to be the first to show off their KAV Bike Helmet should join the Kickstarter campaign https://www.kickstarter.com/projects/kavsports/kav-the-bike-helmet-reinvented on June 8th to reserve the earliest spot in the production queue.