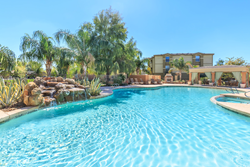 Looking at the bigger picture, we believe Phoenix will continue to be a powerful draw for new residents—with a cost of living less than the national average and the best job growth numbers in the country.
PHOENIX (PRWEB) April 29, 2020
KB Investment Development successfully closed a transaction to add Superstition Canyon, a 200-unit Class A low-density garden community in East Mesa, to their high-performing Phoenix metro multifamily portfolio. CBRE's Phoenix multifamily team of Tyler Anderson, Sean Cunningham, Asher Gunter and Matt Pesch brokered the sale.
The transaction marks the fifth large multifamily project acquired by KB in the Phoenix area since they entered the local market in 2015. Superstition Canyon is located at 1247 South 96th Street in the East Mesa sub-market, one of the region's fastest growing locations. The acquisition includes a vacant 1.7-acre parcel which will provide additional development potential in a sub-market with limited opportunities for new apartment supply.
KB's CEO and Founder, Khosro Khaloghli, acknowledged the challenges presented by the current public health crisis, and reports that he and his team spent many days weighing the potential impacts on the near and long-term performance of this asset before deciding to move forward in an environment where the majority of similar pending deals have stalled.
"The Phoenix multifamily market is in such a strong position that we feel confident in our ability to maximize the upside potential of this new asset even during a possible period of small adjustments in rent growth," says Mr. Khaloghli. "Our projects in Mesa and Ahwatukee have occupancies around 98% and we have similar expectations for Superstition Canyon. Looking at the bigger picture, we believe Phoenix will continue to be a powerful draw for new residents—with a cost of living less than the national average and the best job growth numbers in the country. People and companies will go where they have the best chance for success."
Superstition Canyon Apartments is positioned to take advantage of an existing array of nearby employers, plus new arrivals moving in to East Mesa in healthcare, aerospace and tech, as the Elliot Road Technology Corridor, anchored by a new Apple data center, bolsters the sub-market's already substantial fundamentals.
The asset will be professionally managed by Maverick Residential Company. Jeffrey Krohn, President of Maverick, joined Khosro Khaloghli in 2018 to establish a multifamily investment/management firm that would set a higher standard for asset performance. Mr. Krohn commented on the company's readiness to meet current challenges. "We're excited to add this beautiful community to our managed portfolio and work with the owner to really polish its value. Due to our robust cloud-based, virtual systems and company culture of creative responses to adversity, we're well-positioned to exceed expectations despite the temporary restrictions." Krohn came to Maverick from his role as the Vice President of Operations for Alliance Residential, where he oversaw the operations of third-party managed assets in Arizona with over 16,500 units in his portfolio. He also created the Business Development platform for Alliance and was instrumental in growing the portfolio from 60,000 to 100,000 units.
The buyer brings more than 40+ years of experience in all phases of development, and well-established relationships with major lenders. Khosro Khaloghli's entities operating in California, Nevada, Texas and Arizona have been responsible for the entitlement/development of more than 125 commercial/industrial buildings totaling over 11 million square feet of warehouse, industrial and office buildings, and 7,000 residential and apartment units, with an estimated value that exceeds $1.5 billion USD. He entered the greater Phoenix market aggressively in 2015, targeting larger communities with value-add potential for acquisition. The company's local portfolio of 1,432 units includes Stone Canyon, a 392-unit very low-density garden-style apartment complex in Mesa, Superstition Canyon with 200 units, and three communities in the premium Ahwatukee submarket: Mountainside, a 288-unit property; Arboretum at South Mountain, with 312 units and Mountain Park, 240-units. All were financed through Freddie Mac and are exceeding their operating budgets under the management of Khaloghli and Krohn's Maverick Residential Company.
About Maverick Residential Company
Founded in 2018, Maverick Residential Company (MRC) is a premiere, privately-held real estate company based in Phoenix, Arizona. The Company is a fully-integrated platform with a specific focus on the acquisition and management of multifamily real estate. MRC prides itself on streamlined operational expertise, fostering strong on-site teams and taking care of residents. For more information, please visit http://www.mavres.com
About KB Development
KB Investment Development Company (KB) is an Orange County, California based real estate development company with more than 40 years of experience in the development, construction and management of commercial and residential real estate. KB and its affiliates have built more than 7,000 residential and multifamily units and more than 11 million square feet of industrial and office properties.