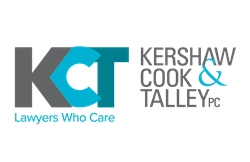 We want what's best for our clients. This is why we created this website.
(PRWEB) June 29, 2015
Today, Kershaw, Cook & Talley announced the launch of a new website, Zofran Resource Center. The website is designed to provide up-to-date scientific information about the potential link between the antiemetic Zofran and various birth defects as recently reported in case studies. Specifically, in a 2012 study by the Slone Epidemiology Center at Boston University and the National Birth Defects Prevention Study, Medications Used to Treat Nausea and Vomiting of Pregnancy and the Risk of Selected Birth Defects, researchers found a 2-fold increased risk of cleft palate in infants exposed to Zofran during the first trimester of pregnancy.
On their website, KCT has a "Research Library" that contains links to numerous peer reviewed scientific articles that discuss the relationship between Zofran and various birth defects. The library also contains court documents as well as records on file with the FDA. In addition, the Resource Center has a video library that contains answers from attorney, Stuart Talley, to several frequently asked legal questions. For example, Mr. Talley provides explanations to questions such as,"What is the statute of limitations for a Zofran case?", "What can I expect from a Zofran Lawsuit?", and "What is the current status of the Zofran litigation?"
Kershaw, Cook & Talley attorney Stuart Talley explained, "We represent mothers and children who potentially suffered as a result of Zofran. There seems to be a lot of confusion in the medical community as to what to do about this situation. Many mothers ask if they are to blame for taking Zofran during their pregnancy. They want what's best for their children. And we want what's best for our clients. This is why we created this website."
On March 6, 2015, William A. Kershaw and Stuart C. Talley, lead attorneys at Kershaw, Cook & Talley, filed the first California Zofran lawsuit in the Superior Court for the State of California, in the county of Alameda. * The complaint is filed on behalf of a little boy who was born with Supraventricular Tachycardia, or SVT, a serious heart birth defect. In the lawsuit, Mr. Kershaw and Mr. Talley allege the child's birth defect was suffered after his mother took Zofran, also known as Ondansetron, during her first trimester of pregnancy. According to the filing, the baby's mother was prescribed Zofran, off-label, to alleviate morning sickness she experienced in the early weeks of her pregnancy. The complaint alleges the little boy's SVT was the direct result of exposure to Zofran in utero.
About Kershaw, Cook & Talley
Sacramento based law firm Kershaw, Cook & Talley have demonstrated their dedication to protecting the legal rights of patients affected by dangerous drugs, as well as their ability to devote substantial resources through trials involving big pharma like GlaxoSmithKline. Their personal injury and class action lawyers have represented thousands of victims of defective medical devices, dangerous drugs and consumer products in cases throughout the United States. They have generated millions of dollars in lawsuit recoveries for their clients and the classes they have represented.
*Lampkin v. GlaxoSmithKline LLC, Case No. RG15761042, Superior Court for California, County of Alameda