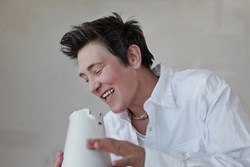 Pop and country singer-songwriter, k.d. lang and Canadian Astronaut, Chris Hadfield to join the lineup for Sarah McLachlan's benefit celebration in Edmonton
Edmonton, Alberta (PRWEB) August 21, 2013
Barefoot in the Backyard is pleased to announce pop and country singer-songwriter, k.d. lang and Canadian Astronaut, Chris Hadfield to join the lineup for Sarah McLachlan's benefit celebration on September 14, 2013 in Edmonton, Alberta. Proceeds to benefit the Sarah McLachlan School of Music, the University of Alberta Music Program, the Edmonton Opera and Alberta Ballet
Barefoot in the Backyard in Edmonton is in less than a month and just added yet another layer of excitement to this extraordinary evening featuring Sarah McLachlan and friends. Alberta Native and stellar singer k.d. lang will be belting out some tunes and Canadian Astronaut Chris Hadfield promises to be full of surprises and anecdotes.
Noted as the "best singer of her generation," by Tony Bennett, k.d. lang has earned eight Juno Awards, honored with four GRAMMY® awards, a BRIT, an AMA, a VMA, and four Awards from GLAAD. Her blend of country-rock stylings and playful punk-like attitude will bring add to the evenings energy.
The heavily decorated astronaut, engineer, and test pilot, Chris Hadfield is also set to make a very special appearance to the evening. Called "the most famous astronaut since Neil Armstrong" by the BBC, Hadfield—now safely back on Earth—continues to bring the glory of science and space travel to everyone he encounters.
Already being dubbed as the Edmonton "don't miss event" for 2013 this unique event takes place on Saturday, September 14, 2013 from 5 pm – Midnight and features a lineup that is rare in Edmonton. Premiere Canadian singer and songwriter Sarah McLachlan fills out her performance series with k.d. lang, the Barenaked Ladies, Colin James, Chris Hadfield and students from the Sarah McLachlan School of Music.
All proceeds from this event will benefit the Sarah McLachlan School of Music, University of Alberta Music Program, Edmonton Opera and the Alberta Ballet. We also thank all the local supporters as they have been tremendous!
A special thank you to our Gold Sponsors who help make this event possible. Their dedication to children finding their voice and supporting the arts is not only generous but admirable. Our Gold Sponsors include CN, Century Hospitality Group, Cougar Drilling Solutions, Executrade / Richardson Executive Search, John Cameron Entertainment, Glen and Sandra Woolsey, NPO Zero, Touchstone and the Wheaton Family Foundation.
If you are interested in attending or becoming a sponsor please contact us at 619.297.3742 or visit http://www.barefootinthebackyard.com .