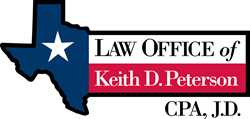 Applicants are generally more willing to provide information prior to obtaining credit than cooperating after credit is provided.
Houston, TX (PRWEB) May 23, 2017
Pre-collection credit analysis should be focused on properly identifying the person, corporation, or other entity with whom a small business intends to provide credit. "This will help you determine their credit history, and what credit risk the applicant warrants," said attorney Keith D. Peterson, founder of the Law Office of Keith D. Peterson, which represents businesses and individuals in commercial transactions and litigation and business and estate planning.
To help small businesses improve their collections, Peterson lists the following five tips:
No. 1: Get all information from the applicant that you may want at the beginning of the process. "This includes lien information," noted Peterson. "Applicants are generally more willing to provide information prior to obtaining credit than cooperating after credit is provided."
No. 2: Obtain a promissory note from customers for payment and seek to have third parties guaranty the payment. These efforts, if successful, greatly increase one's rights and success at the courthouse. "If the debtor will not agree to a promissory note, consider legal action," added Peterson.
No. 3: Obtain in writing with customers the interest rate that one intends to charge prior to providing the credit. The Texas Finance Code provides that a creditor is only entitled to a floating rate as set forth by the Office of Consumer Credit Commission, found at http://www.occc.state.tx.us/pages/int_rates/Index.html, unless there is a writing to the contrary. "Do not provide the customer with a claim for usury by attempting to charge more than this rate per annum if you are unsure of your credit rights," stressed Peterson.
No. 4: Efforts to obtain payment from a customer are admissible in a trial proceeding. "Therefore, all actions that you take to collect the amount will be admissible," noted Peterson. "Courteous collection efforts will only improve your standing with the court."
No. 5: Provide customers with a psychological win by providing a discount to their account. "Your desire to be right may cost your company time and resources. A collection rate of 90% from a troubled customer is excellent," concluded Peterson. "At worst, seek to recoup your out-of-pocket expenses so that you do not incur a loss and then move on to the next business deal. Trial is often frustrating and time consuming. Remember, pigs get fat and hogs get slaughtered."
About the Law Office of Keith D. Peterson
The Law Office of Keith D. Peterson practice areas include business formations and contract law; estate planning, wills, trusts and probate; real estate; construction and collection law; and taxation law. For more information, please call (281) 970-7001, or visit http://www.kdplaw.com. The law office is located at 9601 Jones Road, Suite 240, Houston, TX 77065.
About the NALA™
The NALA offers small and medium-sized businesses effective ways to reach customers through new media. As a single-agency source, the NALA helps businesses flourish in their local community. The NALA's mission is to promote a business' relevant and newsworthy events and achievements, both online and through traditional media. For media inquiries, please call 805.650.6121, ext. 361.