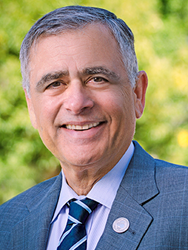 "We are seeking a founding dean who is not afraid to make medical education unique by challenging the status quo," KGI President Sheldon Schuster said. "An exciting future awaits our students and our community."
CLAREMONT, Calif. (PRWEB) July 30, 2018
Keck Graduate Institute (KGI) has announced plans for a new KGI School of Medicine to meet the increasing demand for primary care physicians in Southern California. A generous donor's transformational gift to KGI will fund the first phase of the school, which includes the recruitment and hiring of the founding dean.
"We are excited and eager to bring world-class medical training to future physicians, and are especially grateful for this donor's vision and support of what will ultimately mean better health services and improved access to care for our community and many others," said KGI President Sheldon Schuster. "We will work with the founding dean to develop a next-generation medical school that serves as a national model in preparing physicians to practice at the intersection of evolving scientific research and population health management."
In May, the KGI Board of Trustees approved the proposal to develop the school. The board based its decision on a feasibility study by strategic consultant, Tripp Umbach, which concluded that a medical school at KGI would help meet the demand for more primary care physicians in Southern California.
Medical education programs leading to the M.D. degree in the United States and Canada are accredited by the Liaison Committee on Medical Education (LCME). KGI is following the steps to apply for LCME applicant status.
The founding dean and development staff will begin a philanthropic outreach campaign to further fund the faculty development and facilities required to meet LCME accreditation standards.
"We are seeking a founding dean who is not afraid to make medical education unique by challenging the status quo," said Schuster. "An exciting future awaits our students and our community."
About Keck Graduate Institute (KGI)
KGI was founded in 1997 as the first higher education institution in the United States dedicated exclusively to education and research related to the applied life sciences. KGI offers innovative postgraduate degrees and certificates that integrate life and health sciences, business, pharmacy, and genetics, with a focus on industry projects, hands-on industry experiences, and team collaborations.
A member of The Claremont Colleges, KGI employs an entrepreneurial approach and industry connections that provide pathways for students to become leaders in healthcare and the applied life sciences. KGI consists of three schools: Henry E. Riggs School of Applied Life Sciences, School of Pharmacy and Health Sciences, and the Minerva Schools at KGI. Learn more at kgi.edu.