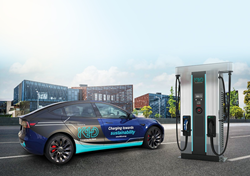 We have chosen to work with Noodoe for their powerful and versatile software and comprehensive support throughout the process
HOUSTON (PRWEB) November 09, 2022
KED Energy deployed their first Powered by Noodoe EV charging stations at the Singapore Chinese Cultural Centre. They chose Noodoe EV OS for its ability to integrate with a diverse range of hardware, increased efficiency and optimization of operations, and ease of use for EV drivers.
At the end of September, KED Energy installed and deployed a new Powered by Noodoe EV charging station at the Singapore Chinese Cultural Centre. The high-traffic urban hot spot is the perfect location to deploy the first of many sites. Visitors come to appreciate modern art and get a chance to experience the latest in advanced EV charging service.
"For the project at the Singapore Chinese Cultural Centre, KED Energy has deployed charging stations run by Noodoe EV OS. It is one of our many projects as a major Charge Point Operator in Singapore and Asia, particularly in Malaysia, Thailand, and Indonesia," announced the company's Managing Director, Kelvin Phan. "We have chosen to work with Noodoe for their powerful and versatile software and comprehensive support throughout the process. Having undergone rigorous testing and integration, combined with the Noodoe software, we provide an excellent EV charging solution. "
The integration - implemented on KED DC and AC chargers that are TR25, LNO certified, and OCPP 1.6J compliant - runs on Noodoe EV OS for optimized operations and increased efficiency. The resulting solution has a driver-friendly user interface and delivers a delightfully simple charging experience.
About KED Energy:
KED Energy Pte Ltd was established by leveraging the electrical engineering expertise of its parent company, Kyo Ei Denko Pte Ltd, which was founded in Singapore in 2002. KED Energy Pte Ltd offers a one-stop shop with organic technical expertise for complete end-to-end EV charging solutions, including hardware, software, installation, and maintenance. The EV chargers are OEM and include both AC and DC chargers. Based on the customer's needs, they can be tailored to a smart and proficient solution that is convenient, safe, and cost-effective in a sustainable manner. KED Energy is also a Tesla "Certified Installer," having installed four out of nine superchargers in commercial buildings and over 120 Wallbox units for landed residential customers since early 2022.
Web: https://ked.energy/
LinkedIn: https://www.linkedin.com/company/82036636
Facebook: https://www.facebook.com/KEDenergy
Contact information:
KED Energy: Mr. Toong Ka Leong, Project Manager. Email: toongkl@ked.energy
About Noodoe:
Noodoe's vision is to put the best EV charging experience in every parking lot. As an end-to-end charging solution provider, Noodoe furnishes fleet operators, site hosts, solution providers, and local charging network providers with cutting-edge EV hardware and software technology through Noodoe EV charging stations and Noodoe EV OS.
Noodoe EV OS is one of the most advanced cloud-based operating systems today, running charging stations across multiple locations from the comfort of a central management dashboard. Simplicity in operation is achieved by managing all EV charging stations with Noodoe EV OS, which automates everything – 24/7 charging service delivery, automatic peak-hour price adjustment, automatic transaction billing, automatic payment processing, automatic bank transfer, automatic infrastructure diagnostics, and intelligent energy management. It's so automated that network operators can focus on managing their businesses instead of their chargers.
Along with our partners in North America, Europe, Australia, Asia, and the Middle East, we delight drivers with the easiest path to a full charge across 110 countries.