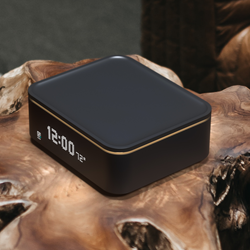 "We designed KEEP to discreetly blend into any home, allowing cannabis to be kept responsibly, not hidden."
TORONTO (PRWEB) November 07, 2019
Canadian tech company KEEP Labs today announced that it has been named a CES® 2020 Innovation Awards Honoree for KEEP, the first smart storage device designed to keep cannabis secure and discreet at home. The reveal was made during CES Unveiled New York, an invite-only tech event bringing together top media and industry leaders for a sneak peek of the best products expected in 2020.
Patent-pending KEEP uses biometric authentication with WIFI and Bluetooth connectivity, allowing responsible cannabis users to lock and unlock the device through the KEEP app with a look or touch. The app sends users push alerts to their phone in the event anyone attempts to access or move the device, giving peace of mind from anywhere.
"Becoming a 2020 CES Innovation Awards Honoree in the Home Appliance Category is a huge acknowledgment for KEEP," says Ben Gliksman, Co-Founder, KEEP Labs. "It shows how the perception of cannabis is changing and with change comes a need for safety in the home."
Every detail was carefully thought out, including a rolling tray, clear sortable internal containers, a designated area for accessories and a built-in scale to keep track of inventory from the app. The hermetic seal keeps odors in while temperature and humidity monitors keep inventory fresh.
"We started KEEP Labs as three dads on a mission to create a more responsible cannabis culture," says Philip Wilkins, Co-Founder KEEP Labs. "We designed KEEP to discreetly blend into any home, allowing cannabis to be kept responsibly, not hidden."
With a sleek intentional design, KEEP combines streamlined functionality with tasteful modern elegance, featuring a compact look and a backlit LED display. KEEP comes in two minimalistic colorways; chalk white and slate black, $249. KEEP is available for backing now via crowdfunding, $149, http://www.discoverkeep.com.
The CES Innovation Awards program, owned and produced by the Consumer Technology Association (CTA)®, is an annual competition honoring outstanding design and engineering in consumer technology products across 28 product categories.
About KEEP Labs
KEEP Labs is a Canadian tech company focused on responsible cannabis storage. Based out of Toronto Canada, KEEP Labs has over forty years of combined experience building and working with technology companies across the U.S., including Silicon Valley, Canada and internationally. Follow us @discoverkeep.
About CES:
CES® is the largest, most influential tech event in the world – the proving ground for breakthrough technologies and global innovators. This is where the world's biggest brands do business and meet new partners, and the sharpest innovators hit the stage. Owned and produced by the Consumer Technology Association (CTA)®, CES features every aspect of the tech sector. Learn more at CES.tech and follow CES on social.
About Consumer Technology Association:
As North America's largest technology trade association, CTA® is the tech sector. Our members are the world's leading innovators – from startups to global brands – helping support more than 18 million American jobs. CTA owns and produces CES® – the largest, most influential tech event on the planet. Find us at CTA.tech . Follow us @CTAtech .