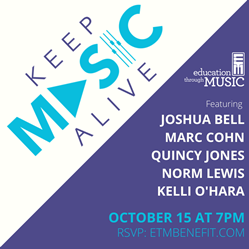 NEW YORK (PRWEB) September 10, 2020
Legendary producer Quincy Jones, Broadway stars Kelli O'Hara and Norm Lewis, internationally-renowned violinist Joshua Bell, and Grammy Award-winning singer-songwriter Marc Cohn are joining Education Through Music (ETM) to raise much-needed money for music education in NYC schools as headliners for Keep Music Alive, ETM's Virtual Gala on October 15th, 2020, at 7pm.
The virtual gala, which is free to attend, will premiere on YouTube.com/ETMonline on October 15, 2020, at 7pm.
Ms. O'Hara, Mr. Lewis, Mr. Bell, and Mr. Cohn will be performing individually during the gala; and Mr. Jones will be sharing some personal remarks.
The Virtual Gala is the culmination of ETM's Keep Music Alive campaign, which aims to raise critical funds for tens of thousands of NYC students who rely on Education Through Music for access to music education.
Today, as students face the additional challenges and inequality of learning during a pandemic, they deserve access to a high-quality music education which promotes social and emotional well-being. The gala will support ETM's partnerships with schools to provide music access for all students, no matter their background or circumstances.
The COVID-19 pandemic has changed the economic landscape, as well as the future of public education. NYC's Department of Education cut its arts education budget by 70% for the coming school year, which will devastate arts education in schools, including access to music education. The Keep Music Alive campaign will help make sure tens of thousands of young people have access to a music teacher and music classes – whether virtual or in-person – for school year 2020-21.
Guests can RSVP for free ahead of time or make a donation to Keep Music Alive at https://www.etmbenefit.com.
About Education Through Music
Education Through Music was founded in 1991 to promote the integration of music into the curricula of under-resourced schools in order to enhance students' overall achievement and general development. ETM forms long-term partnerships with schools to develop sustainable, long-term music programs.
In the wake of NYC school closures in March 2020 due to COVID-19, ETM has adapted its programming to serve students via distance learning and in virtual environments, providing essentially uninterrupted service to its 70 partner schools and 36,000 partner school students in School Year 2019-2020.
ETM's comprehensive music education model has garnered the support of corporations, public policy makers and foundations, including The Music Man Foundation, CMA Foundation, Steinway & Sons, Booth Ferris Foundation, The Pierre and Tana Matisse Foundation, and D'Addario Foundation. For more information, visit us at ETMonline.org.