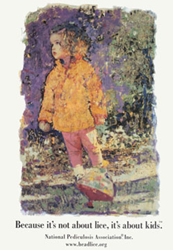 September is National Head Lice Prevention Month, the beginning of a year-long awareness campaign by the National Pediculosis Association (NPA).
NEWTON, Mass. (PRWEB) August 23, 2018
Parents naturally put their children first, constantly seeking information to keep their families nurtured and safe. But when it comes to head lice, they're often confronted with conflicting guidance and misinformation—leading them to make potentially risky and ineffective treatment decisions. Among the hazards are serious health effects from repeated exposure to various pesticide remedies, treatment failures, lice resistance, and chronic infestations that make parents and children feel desperate and overwhelmed.
That's why September is National Head Lice Prevention Month, the beginning of a year-long awareness campaign by the National Pediculosis Association (NPA). This nonprofit organization is dedicated to setting the highest possible public health standards, with a specific focus on protecting children from lice and associated risky treatments that contain pesticides. Today, the NPA is urging parents to know what to look for before outbreaks occur, and to screen regularly and detect head lice and their eggs (nits) when there are fewer of them to remove – which can be done successfully with a quality lice comb. See more in the following short videos: https://bit.ly/2OsWko5 and https://bit.ly/2MgLEMQ.
Routine screening and early detection are consistent with traditional communicable disease prevention methods. And some of these methods are better than others. Kosta Y. Mumcuoglu et al. noted in Pediatric Dermatology that "diagnosis of louse infestation using a louse comb is four times more efficient than direct visual examination and twice as fast."
Acknowledging that head lice is a public health problem for children is a critical first step in participating in the prevention campaign. This along with proactive community education can empower parents and encourage entire communities to work cooperatively on safe, respectful and effective control measures. The NPA's recommendations target everyone in the circle of responsibility for children—family members, friends, neighbors, school nurses, teachers and principals, pharmacists, physicians, product manufacturers and government agencies.
"Too many children are being sent home from school for treatment without advance parental education on the risks of chemical products and without the beneficial notice that head lice can be managed safely and thoroughly with combing. The prevention month campaign focuses on these areas because the use of pesticides on children is what makes pediculosis the important communicable disease issue that it is," said Deborah Altschuler, President, NPA.
"An informed parent community is the best strategy. It eliminates the need for a note from school because it empowers parents to be the first to detect a child's infestation and manage it successfully and safely at home. Knowledgeable parents are confident and able to send their children to school without pediculosis," she added.
To help parents, the NPA has published "The Deceptive Dozen," with twelve important tips to avoid misleading information on head lice, available at https://bit.ly/2KO9qKs.
Journalists who would like additional information should contact Dawn Ringel, Ringel PR, at 781-449-8456 or dawn@ringelpr.com.
About the National Pediculosis Association
The National Pediculosis Association (NPA) is a 501(c) 3 nonprofit organization dedicated to the mission of setting the highest possible public health standards for children as they relate to the communicability and treatment of head lice. The NPA is comprised of volunteers including its Scientific Advisory Board. As part of its mission, the NPA developed the LiceMeister® comb and makes it available on its website, headlice.org/. All proceeds from the comb allow the NPA to maintain independence from product manufacturers and stay loyal to its mission to protect children from the misuse and abuse of pesticides for lice.