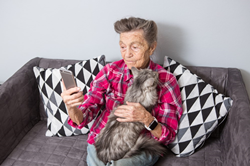 BabelVet allows practices to offer a flexible option for staff who may be at risk.
NEWTON, Massachusetts (PRWEB) March 11, 2020
As health concerns rise and the human population find themselves at potential risk, the veterinary profession is now seeking immediate continuous care solutions. Today, BabelBark, Inc., a pet-related software developer, announced it is offering veterinary practices across the United States and Canada, the ability to use its BabelVet platform, free of charge, to remotely connect with their pet owners and continue veterinary care.
BabelVet is a comprehensive health dashboard linking veterinarians directly to their pet parents' phones, medical records and allowing direct communication between the veterinarian and pet owner using photos, text and video. This remote monitoring allows at-risk owners to stay home without compromising others' health and safety and still get medical care for their pets.
With health concerns on the rise, communities are preparing and implementing safeguards to reduce contact with potential illness. This includes veterinary practices who must ensure both pet owners and staff are safe on a daily basis. BabelVet allows practices to offer a flexible option for staff who may be at risk. Those employees who are highest at risk can work remotely to monitor pet owner health reports.
For more information from the CDC, click here and to offer continuous solutions to pet owners, visit BabelVet.
About BabelBark, Inc.
BabelBark is a unique digital platform dedicated to connecting families to the many facets of their pet's life. The integrated app and software system help pet parents better understand their dog or cat to provide them the happiest and healthiest life possible, while also helping pet businesses and veterinarians communicate directly with customers and clients. It means BabelBark can help connect the love for each pet while revolutionizing veterinary care and pet business models, giving pet parents a key tool they want — a digital and personal healthcare team. For more information, visit BabelBark, BizBark and BabelVet.