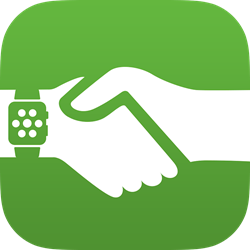 GAINESVILLE, Florida (PRWEB) January 18, 2016
Keep It Simple Technologies is simplifying customer relationship management (CRM) software with its new app, "Always Be In Contact." The app streamlines the process of adding contacts and receiving reminders on mobile devices—the core essence of customer relationship management. The app is available today on all iOS devices from the iOS App Store.
Customer follow-up is the primary challenge for all sales people across many industries, ranging from automotive sales to non-profit fundraising. Always Be In Contact makes it easy to seamlessly add new contacts, which automatically generates a reminder to follow-up in a few days. Reminders appear on a mobile device, which can pair with the Apple Watch and allows one to reset or respond to the reminder with the touch of a single button. All contacts are saved to the mobile device address book and synced with a cloud-based server so information is never lost, and follow-ups are never overlooked.
The most important part of any sale is the financial transaction. Always Be In Contact makes it very easy to generate a sales quote or provide an estimate on monthly payments for sizeable purchases, like an automobile. It also allows users to manage and organize all quotes and estimates, link them to contacts, and receive automatic reminders to follow-up to close the deal.
One of the foremost needs for sales management is the ability to monitor real-time metrics and sales activity—new contacts, phones calls, emails, and quotes or estimates generated by the sales team. Keep It Simple Technologies offers a customized, enterprise edition of Always Be In Contact for organizations. This feature boasts a management web dashboard that tracks all real-time activity created by each user. Keep It Simple Technologies will offer this feature through the Apple Business2Business Volume Purchase Program. Visit http://www.alwaysbeincontact.com for more information and pricing.
To showcase the app, Keep It Simple Technologies will exhibit Always Be In Contact at the Digital Dealer Conference and Expo, January 19th-21st in Orlando, Florida. Visit booth #933 for a live demo. Leadership will also be available for any press interviews.
Keep It Simple Technologies designs, develops and markets Software as a Service (SaaS) solutions applying the keep it simple philosophy. Always Be In Contact, sales success made simple on mobile devices, is a mobile customer relationship management (CRM) app designed to assist sales people to increase productivity and never forget to follow-up on a sales opportunity.
Benjamin King – CEO and co-founder of Keep It Simple Technologies is a serial entrepreneur with multiple engineering degrees from Georgia Tech. Benjamin helped start CardioMEMS, a biomedical device company that was acquired by St. Jude Medical. Recently, Benjamin served as CTO and co-founder of Voalte, a clinical communication software company, where he designed the Voalte architecture and led the development of their primary VoalteOne solution.
Anthony King – VP of Sales and co-founder of Keep It Simple Technologies had the idea for an app to assist sales people to be more productive on their mobile smartphones. Anthony has over 16 years of experience in automotive dealership operations at Ferrari of Central Florida, where he was consistently the top seller. Anthony's vision for an app that could benefit all sales people in any industry has become a reality with Always Be In Contact.
Press Contacts:
Benjamin King
CEO – Keep It Simple Technologies
king(at)kist.io
(407) 242-2219