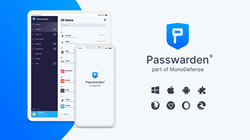 When a Passwarden user urgently needs a password or say, a driver's license number that isn't at hand, they can turn to our product knowing that their data is at their fingertips, but is very secure
NEW YORK (PRWEB) October 06, 2020
KeepSolid, the internet security company behind the popular VPN Unlimited software suite, has officially launched a password manager app, Passwarden. This application aims to provide the highest level of security and convenience to its users by offering military-grade encryption and a variety of useful features.
The key feature that sets Passwarden apart from other password applications is its "Duress Mode" - the ability to use a different password if the user is coerced into opening their password manager by a hostile party. By using this password, the users will only give access to the vaults that were previously selected by them.
Other features of Passwarden include:
AES-256 and ЕС р-384 protocols to encrypt the user's data from being compromised by a third party. Even the KeepSolid team doesn't have access to this data.
Unlimited amount of devices allowed per one account
An ability to share data securely between devices
A "Migration" feature that allows importing passwords into Passwarden from a browsers' password autofill or other password managers
Multi-platform availability ( Windows, MacOS, iOS, Android, Chrome, Firefox, Edge and Web Apps)
The ability to store a variety of types of data, such as credit card info, driver's licenses, software licenses, and many more.
"In today's rapid-paced life, there are fewer things one can trust, be that regulations or services provided. But every person has the right to live their life with stability and confidence," said Vasiliy Ivanov, the CEO of KeepSolid. "We created Passwarden as a product that can become a reliable protection system for the user. When a Passwarden user urgently needs a password or say, a driver's license number that isn't at hand, they can turn to our product knowing that their data is at their fingertips, but is very secure."
Passwarden lets its users store up to 40 items for free, after which the user can choose from the following paid options:
1-Month Subscription: $3.99
1-Year Subscription: $39.99
Lifetime Subscription: $199.99
In addition to these options, Passwarden is available as a part of the MonoDefence package. The pricing for this package is $10.99 per month or $69.99 for a year.
About KeepSolid
KeepSolid is an international security and productivity product development company, with more than 25 million customers across the world. It has a proven track record of creating high-quality data protection and internet security solutions. Some of the most popular products developed by KeepSolid include VPN Unlimited, KeepSolid SmartDNS, DNS Firewall, and others. The company was founded in 2013 and currently employs 100 people across two offices in the US and Ukraine.