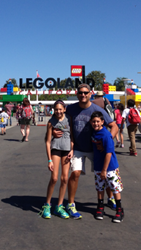 "It was a very tough time in my life. I was filled with fear of what my kids lives would be like without a father to help guide them. Focusing on recording videos gave me some consolation that I might be able to be there for them in a way"
New York, NY (PRWEB) February 11, 2014
Jon Loew was already a successful entrepreneur. By the time he was 30, he had built several successful companies in the media and entertainment industry. Jon was married with two young children. Life was great and the future seemed bright when a severe reaction to a common antibiotic turned everything upside down. Jon spent the next several months with doctors trying to diagnose his illness. There came a point when doctors told him they couldn't pinpoint the problem and didn't know how much longer his body could continue fighting.
It was at that moment Jon started thinking about his family and the things he would miss out on if he didn't make it. He never had the chance to show his son how to shave, talk to his daughter about dating, after all, they were still only five and seven years old. Jon thought it would be great if he could record videos now then have them delivered to his kids in the future, when they would appreciate his guidance or just enjoy seeing his face and hearing his voice again. No technology existed to do this, so he set out to build it himself.
"It was a very tough time in my life. I was filled with fear of what my kids lives would be like without a father to help guide them. Focusing on recording videos gave me some consolation that I might be able to be there for them in a way" says Founder and CEO of KeepTree, Inc., Jon Loew.
After building a rough prototype of the technology, some of Jon's previous business partners insisted that this was technology many people could benefit from. Then when things looked their worst, a team of doctors correctly diagnosed Jon and started him on his road to recovery. Six months later, and with a new appreciation for life Jon decided to turn KeepTree into a fulltime passion. KeepTree secured its first round of funding from major investors in Japan and added some heavy hitters to its board of directors, including Nobuyuki Idei, former Chairman and CEO of Sony Corporation and Lon Levin, co-founder of XM Satellite Radio. KeepTree has since created solutions for companies such as the NBA, Sony, schools around the world, and even branches of the U.S. military to help service members stay in touch with friends and family while they are deployed.
KeepTree recently launched a newly designed website and Apps for both iOS and Android devices. Users can use any device to record, organize, share and watch videos. Videos can be shared immediately or scheduled for delivery any date in the future with its patent pending technology, FutureSend™. Privacy and security were also major concerns. Most content creation and sharing solutions are focused on sharing with the entire world. KeepTree was created to do just the opposite. KeepTree users have full control over who can watch or share their videos. KeepTree partnered with Blue Ridge Networks, a leading provider of cyber security and data storage, to ensure videos are secure and accessible forever.
Jon still lives with the fear of his health problems recurring. On a positive note, he is excited that the solution he created has the ability to help others find some solace while dealing with the same situation he went through. KeepTree is continuing to grow and people are using it for not only legacy videos but also for a more personal and private way to stay in touch with friends and family, sending video birthday and holiday messages, recording and privately sharing different events going on in their lives.
"KeepTree has so many real life uses. One of the best feelings I have is when somebody tells me how they use KeepTree for something I never even thought of myself. It's a great feeling knowing that what you are doing can help people stay connected forever" says Founder and CEO of KeepTree, Inc., Jon Loew.
About KeepTree:
KeepTree (http://www.KeepTree.com) is a SaaS-based private video messaging and storage solution that allows you to easily capture, store and experience important moments, now and forever. KeepTree has partnered with Blue Ridge Networks, a recognized cyber security market leader, to create the most advanced end-to-end security features protecting video memories. With unique features, like FutureSend™, users can schedule exactly when to send a pre-recorded video and control who gets to see it. No matter if that's thirty days from now or thirty years from now, videos are delivered the way you want, when you want. Advanced privacy settings ensure that videos are only seen by intended recipients.
KeepTree also operates the "TroopTree" service (http://www.TroopTree.com), which is available at no charge to active duty military personnel and their families. FutureSend™ and VideoVault™ features make TroopTree.com an ideal communication platform for service men and women to stay in touch with family and friends during deployments. TroopTree.com gives military families the peace of mind of knowing they can record and share legacy communications.