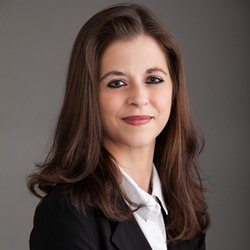 "It is incredibly exciting to be joining KEES, where I have the opportunity to strengthen organizations, positioning them for long-term success and equipping them in their efforts to make a lasting, positive difference in the world." -Heather R. Hill
CHICAGO (PRWEB) August 22, 2019
Heather R. Hill (formerly McGinness), CNM, CFRE, is a seasoned nonprofit leader and AFP Master Trainer, experienced in several areas of the philanthropic sector, including higher education, human services, associations, faith-based and international relief and development organizations. A highly rated international speaker who has spoken at annual conferences for the Institute of Fundraising (UK), the Association of Brazilian Fundraisers, the International Fundraising Congress (the Netherlands) and the Fundraising Institute of Australia, Ms. Hill is passionate about giving back to the profession as a thought leader and volunteer. With two decades of nonprofit experience, she has an extensive background in leadership and management, fundraising, marketing and communications, grant seeking, strategic planning and analytics. She has held the CFRE credential since 2009 and currently serves as Chair of the CFRE International Board of Directors.
Ms. Hill received the Jay Bleeke Award in 2014 for outstanding service as a young Association of Lutheran Development Executives (ALDE) member and the ALDE Creativity Award in 2017 for her "thanksGiving Tuesday" initiative. She was named a Thrivent Fellow in 2013. She is also a member of AFP's Growth in Giving Working Group and an International Advisory Panel member of Rogare.
"I believe the most mission-critical need for nonprofit organizations is excellent leadership at all levels," says Ms. Hill. "It is incredibly exciting to be joining KEES, where I have the opportunity to strengthen organizations, positioning them for long-term success and equipping them in their efforts to make a lasting, positive difference in the world."
As an organization that works with teams in the C-suite, philanthropic, and programmatic areas of nonprofits, serving clients across nearly all sectors in the nonprofit industry, KEES welcomes the wealth of knowledge and experience Heather Hill brings. In her role with the KEES team, Ms. Hill will be developing new services that are responsive to ongoing client requests, further strengthening the KEES mission of building transformative teams and leaders.
"Having Heather Hill join our team is an achievement that not only marks the growth of our initial six years, but takes us into the future," says Heather Eddy, co-founder and President/CEO of KEES. "Ms. Hill brings expertise, thought-leadership and depth to our current work that will help us continue to meet the needs of our client partners. We know that with her leading new services, we will do an even better job of building, recasting and transforming teams."
KEES is a national executive search and consulting firm that builds transformative teams and leaders in the nonprofit sector. In addition to Executive Search, KEES provides a wide variety of services including Specialty and Interim Staffing, HR Consulting and Leadership Development. KEES was founded in 2013 as an expansion and growth of Alford Executive Search. For more information, please visit http://www.kees2success.com.
# # #