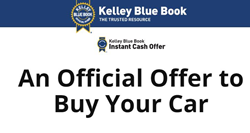 MARION, Ohio (PRWEB) December 27, 2022
Customers who are planning to sell or trade-in their existing vehicle near the Marion area in Ohio can now get the Kelley Blue Book® instant cash offer from Mathews Hyundai. Interested parties can enter the basic details of the car on the dealership website and answer a few questions. After the car is brought to the dealership, an inspection will be conducted and an instant cash offer that is valid for seven days will be issued.
The Kelley Blue Book® Instant Cash Offer is calculated using a proprietary tool that takes into consideration multiple factors like used car prices and fluctuating market conditions. This calculation also includes multiple data sources and is based on factors that affect used car pricing, such as Supply and Demand, Specific Vehicle Details, Historical Trends, Local Market Influences and Regional Differences. The offer is free, and no extra fee must be paid to obtain or redeem it. Typically, eligible car sellers will receive an offer within minutes, but sometimes it may take longer during periods of heavy volume. Additionally, please note that Kelley Blue Book® Instant Cash Offer is not available for all makes and models.
Prospective used car sellers are encouraged to visit Mathews Hyundai located at 1793 Marion Mt. Gilead Road/ Route 95, Marion, Ohio, 43302. For any further information regarding the Kelley Blue Book® Instant Cash Offer at Mathews Hyundai, drivers can contact the friendly and professional dealership staff by dialing 833-331-0082.