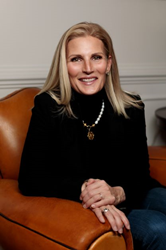 "We are excited for Kelly to drive our innovation strategy with the goal of improving and transforming project delivery," said Karen Higgins-Carter, Chief Information and Digital Officer, Gilbane Building Company.
ARLINGTON, Va. (PRWEB) February 09, 2023
Gilbane Building Company today announced the promotion of Kelly Benedict to the newly created position of Head of Innovation and Transformation. As Gilbane's leader for innovation, Ms. Benedict will be responsible for developing and accelerating Gilbane's innovation strategy, driving organizational change that advances Gilbane's culture of innovation, and ensuring the company's technology and digital transformation supports business goals. This new position will leverage her tremendous strategic innovation and client engagement expertise and reflects Gilbane's expanding investment in innovation.
"Kelly is a dynamic, strategic leader who applies industry knowledge, entrepreneurism, and client engagement to deliver value and opportunities," said Karen Higgins-Carter, Chief Information and Digital Officer, Gilbane Building Company. "Gilbane has long led the industry in advancing new approaches in safety, technology, tools, and methodologies in pursuit of delivering better outcomes for clients. We are excited for Kelly to drive our innovation strategy with the goal of improving and transforming project delivery."
"This is a time of tremendous change and disruption in the construction industry and I'm looking forward to leveraging opportunities in my new role," Ms. Benedict said. "It's an exciting moment to build on Gilbane's record of entrepreneurism and innovation. Gilbane is positioned to make advances in every area of the construction process and I could not be more excited about the innovations we have in the works and those we'll develop and put to work in the years to come."
During her three decades in the construction industry, Ms. Benedict has excelled in business development, client engagement, strategy, transformation and innovation across large privately and publicly held firms. A graduate of Bowling Green University, Kelly earned a degree in Bachelor of Science in Education, with a focus on Marketing Communications.
Kelly's new role will focus on all aspects of Gilbane's innovation and transformation, including:

Driving Strategy, Organizational Change and Transformation
Gilbane defines innovation as a commitment to deliver shared value for clients, partners, and its people. The company has committed to applying a lens of innovation to every aspect of the company from technology to DEI to its environmental, social, and governance strategy. This new role will ensure Gilbane's innovation and digital strategy is aligned with the enterprise business strategy, simplifying business practices to increase productivity and efficiency, and leveraging our data as a strategic asset to deliver long-term value. This includes evaluating and piloting opportunities with emerging technology.
Kelly is shepherding the use of design-thinking to solve problems and using idea hacks to harvest new approaches and partner with clients to drive solutions. Her approach to innovation will also further engage Gilbane in partnerships to make further improvements and advancements in the construction industry by connecting with academia, industry associations, trade partners, suppliers, designers, and clients.
Leading the Innovation Council
In this new role, Kelly will continue to lead Gilbane's Innovation Council which comprises a diverse group of leaders representing all departments and service areas within the company. The Council fosters a culture where employees are empowered to promote knowledge-sharing, improve efficiencies, and raise the bar for client satisfaction. The Council provides a forum to showcase creativity and develop new ideas.
Gilbane's Innovation Accelerator
Gilbane has adopted an "Accelerator" methodology unique to its business to shepherd innovative concepts from ideas to experimentation and implementation. The vehicle is designed to test, share and communicate innovative solutions and is fully automated to generate metrics around trends, progress, and areas where mitigation is needed. The metrics are tied to critical business objectives and are transparent to all employees. To date, the Accelerator has captured 166 ideas in its portfolio and is focused on piloting and scaling select opportunities that support key business objectives related to environmental, social, and governance strategies, productivity, and supporting growth markets.
About Gilbane Building Company
Gilbane Building Company provides a full slate of construction and facilities-related services – from pre-construction planning and integrated consulting capabilities to comprehensive construction management, close-out, and facility management services – for government clients worldwide. A family business founded in 1870, Gilbane has active participation from the 4th, 5th, and 6th generations of the Gilbane family. Gilbane has more than 45 office locations around the world.
For more information, visit http://www.gilbaneco.com.