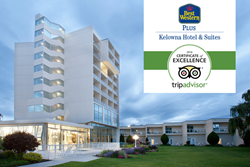 This recognition helps travellers identify and book properties that regularly deliver great service
KELOWNA, BC (PRWEB) June 22, 2016
On the heels of winning a TripAdvisor Hall of Fame Award in 2015 for earning a Certificate of Excellence five years in a row, one of the most popular Kelowna hotels has once again won the traveller review site's top annual award.
"Everyone was smiling and just filled with such pride when we heard the news," says Brenda Rayburn, Director of Sales and Marketing at Best Western Plus Kelowna Hotel & Suites, which recently won TripAdvisor's 2016 Certificate of Excellence. "Everyone on our team is committed to creating a memorable experience for our guests, and we'll always strive to exceed their expectations."
The award is given to properties that consistently achieve outstanding reviews on TripAdvisor over the last year. Quality and quantity of reviews are considered, and candidates must maintain an overall TripAdvisor bubble rating of at least four out of five, among other requirements.
Among the nearly 40 hotels in Kelowna, the Best Western Plus location is number one on TripAdvisor, with guests regularly giving rave reviews to the pet-friendly nature of the hotel, the grassy courtyard design accommodating pets and groups, as well as excellent service from staff, among other highlights.
"Reviews continue to make us a better hotel," says Rayburn "We strive to knock it out of the park on the value and quality of our amenities, and our customer service—from cleanliness to dining to maintenance. We welcome and even solicit reviews because it's guests' opinion that ultimately matters and often directs our priorities in the changes we make."
The Best Western Plus Kelowna Hotel & Suites is proud to be one of the few Kelowna hotels to have received the Certificate of Excellence six years in a row, with the fifth year garnering TripAdvisor's Hall of Fame Award.
"This recognition helps travellers identify and book properties that regularly deliver great service. TripAdvisor is proud to play this integral role in helping travellers feel more confident in their booking decisions," says Heather Leisman, Vice President of Industry Marketing for TripAdvisor, which launched the Certificate of Excellence six years ago.
In addition to the recent TripAdvisor achievement, this Kelowna Hotel is also celebrating winning the Best Western Housekeeping Excellence Award for outstanding housekeeping. The hotel has also won numerous awards for its environmental achievements.
About Best Western Plus Kelowna Hotel & Suites
The Best Western Plus Kelowna Hotel & Suites offers guests a convenient launching pad to all there is to enjoy in the Okanagan. The Kelowna Best Western hotel amenities and extras include fibre optic Internet, a mineral pool, hot tubs, free hot breakfast buffet, fitness centre, spa, a restaurant and pub and more. With dozens of eco-tourism awards and a LEED Silver environmental wing as well as a sprawling, grassy courtyard surrounding its 176 rooms, this Best Western Plus Kelowna Hotel & Suites has become one of the most popular 'green' and pet-friendly Kelowna hotels.
For more information, please contact:
Brenda Rayburn
Director of Sales & Marketing
Best Western Plus Kelowna Hotel & Suites
1-250-860-1212
brenda[at]bwkelowna[dot]com
http://www.bestwesternkelownahotel.com