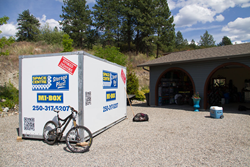 Year-to-date, Central Okanagan has experienced an 18.85% increase in units sold compared to 2015.
KELOWNA, BC (PRWEB) April 30, 2016
In light of a recent statistics released by OMREB regarding the housing market in Central Okanagan, Space Centre Storage reports that many homeowners and homebuilders are turning to its MI-BOX® Kelowna storage containers for their storage needs.
According to OMREB, the 2016 housing market in Central Okanagan is off to a great start! Compared to last year, March 2016 has seen a 23.98% increase in homes sold. Anthony Bastiaanssen, OMREB President and active REALTOR® in the Central Okanagan, reported "The spring housing market is now shaping up to be one of the most active on record," and the figures speak for themselves. Year-to-date,
Central Okanagan has experienced an 18.85% increase in units sold compared to 2015.
"A lot of people are moving to and from Kelowna and Lake Country" says Yvonne Rogers, Operations Manager at Space Centre Storage in Kelowna. "Our MI-BOX® mobile storage units are so convenient for moves.
"On the selling side, homeowners use them for staging. They declutter their homes so they look more spacious and are more appealing. And for people who are moving, it just saves on time and you don't have to rent a truck. You just load it once and it gives you more time to move."
MI-BOX® is owned and operated by Space Centre Storage. Rogers says there is more flexibility when renting these mobile containers compared to hiring moving trucks or professional movers. There's no need to set firm start and finish dates. Instead, clients can request to have a container dropped off at their home as far in advance as they wish. This enables them to pack their belongings and load the container when they want.
For homeowners whose moving and possession dates don't match up, a MI-BOX® container can be transported to a secondary location until the client is ready to move in. Rogers adds they can also utilize Space Centre Storage's climate-controlled facility for residential storage.
MI-BOX® was actually started in Lake Country before Space Centre Storage acquired the business in September 2014.
"Local residents are familiar with the brand, which has helped boost awareness and increase sales," says Rogers.
These Kelowna storage containers are also popular among construction and landscaping crews. Whether they're renovating homes to get them ready for sale, or building new homes on one of the many developments in the area, MI-BOX® allows tradesmen to store their tools and equipment on the jobsite so they don't have to bring everything with them when they leave.
"Not only can this increase productivity, it decreases the chance of them losing things. It allows them to keep everything together in one convenient location," says Rogers.
"And when they're finished one project and ready to start another, they can have one of our professional drivers load up their Kelowna storage containers and deliver them to the next site."
The District of Lake Country—which is comprised of Oyama, Winfield, Okanagan Centre and Carr's Landing—falls within the northern boundary for the service area. Space Centre Storage will deliver their MI-BOX® containers to customers as far east as Joe Rich and to the south in West Kelowna.
About Space Centre Storage
Space Centre Storage in Kelowna has been providing Okanagan storage solutions since 1985. Residential storage services include self storage in a variety of units, the MI-BOX® portable storage containers, moving supplies, mailboxes and indoor and outdoor RV & boat storage. Space Centre Storage also offers commercial lease space, mini-warehousing, and forklift and load docks for business customers.
For more information, please contact:
Yvonne Rogers
Operations Manager
Space Centre Self Storage
yvonne[at]spacecentrestorage[dot]com
250-765-4125
http://www.spacecentrestorage.com