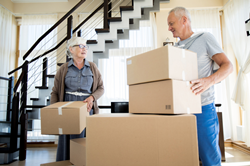 As more Okanagan retirees are looking to downsize, they also need more space to store their belongings
KELOWNA, British Columbia (PRWEB) June 26, 2019
As more Okanagan retirees are looking to downsize, they also need more space to store their belongings. That's where a self-storage company can help.
Space Centre Storage is meeting the demand of Okanagan residents choosing to leave their family home for a condo, townhome, or other smaller residence with several storage rental options.
"Sometimes people don't want all their eggs all in one basket. They may want to store their documents, or they have seasonal Christmas decorations, lighting, planters, bicycles, winter tires, summer tires, and tools and no longer have a garage or workshop in which to store their equipment. We can help them with a variety of storage units and other storage options," says Yvonne Rogers, operations manager at Space Centre Storage.
The Alcan Road facility features smaller storage lockers, ideal for seasonal items, to larger units that can fit furniture and more significant pieces from a two-to-four bedroom home.
Another option is a climate-controlled unit to store valuables such as heirlooms, antiques, collectibles, and artwork, says Rogers.
"These may be belongings that no longer fit into the scheme of the retirees' new home or that they no longer have room for, but want to keep," says Rogers, adding, "Our climate-controlled Kelowna storage units are located inside our facility so that the people loading their items won't be left standing outside in the cold or heat."
Kelowna residents without a large vehicle to transport their belongings can take advantage of the complimentary moving truck with a driver that Space Centre provides to its clients who rent a unit.
"We also have moving supplies such as boxes, shrink-wrap, picture boxes, and more to help them pack up their goods, and we offer equipment such as dollies and ramps to make moving into their unit an easier experience," says Rogers.
Space Centre Storage's MI-BOX® storage containers offer another way for retirees and empty nesters to store their belongings before moving into their new home, or if they plan to go travelling.
"We deliver a container to their residence, and they can load it on their own time. They can keep it on their property for as long as they need. When they're ready, we pick it up to move it to their new home, or if they plan on travelling, we will move it into our climate-controlled warehouse for safekeeping until they return or need to access their belongings," says Rogers.
Space Centre Storage is also meeting the needs of those living in condos and retirement communities, who do not have secure on-site storage.
"I've heard of some condominiums that have a caged area in the parking garage that is open for people to look inside and see the contents, which doesn't offer a high level of security," says Rogers. "All Space Centre Storage units in Kelowna offer on-site security, including video surveillance, on-site personnel, individual access codes, and disc padlocks for security."
Retirees who don't have a large garage or parking space at their new home can also take advantage of Space Centre Storage's new 157-unit outdoor RV and boat storage facility, which has spaces large enough for luxury motorhomes along with cars, trailers, and boats.
For more information on Space Centre Storage's residential storage services, call 1-778-760-1713 (local) or toll-free at 1-866-245-4956 or visit spacecentrestorage.com.
About Space Centre Storage:
In business since 1985, Space Centre Storage is one of the largest and most established self-storage facilities in Kelowna. With 380,000 square feet of space, Space Centre Storage provides customers with affordable and convenient storage solutions in a safe and secure environment. This includes both commercial and personal storage units, some with 24-hour outside and covered drive-through access, heated warehouse facilities, boat and RV storage, portable storage boxes as well as moving equipment and a free moving truck and driver. Facility tours are available on SCS's electric touring vehicle.