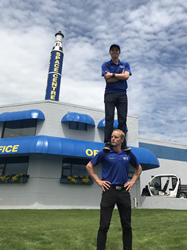 Both brothers are also looking forward to building on Space Centre's already established reputation as an excellent place to do business and work.
KELOWNA, British Columbia (PRWEB) July 03, 2020
Known for the rocket ship that sits high above its entrance, Kelowna storage company Space Centre Storage is looking to the future with the appointment of two familiar faces to its management team.
Brothers Cameron and Brett Martyna are taking on full-time roles at the family-owned and operated business. Cameron has replaced retired General Manager Bob Laird, while Brett is serving as Special Projects Manager.
This is a return to Space Centre for the Martyna brothers, who are following in their father and grandfather's footsteps. Opened in 1985, current Space Centre owner and CEO Mitch Martyna Jr. took over the business from his father, Mitch Sr., in the early 1990s. Space Centre Storage has since gone on to become Western Canada's largest storage facility.
"I've always worked on and off at Space Centre. When they needed somebody to do some odd jobs here and there, I would always jump in. It became a nice job for me to have in between going to school. I started with maintenance, went on to the front desk, and shadowed all the managers, including our former General Manager Bob, who is now mentoring Brett and me," Cameron says.
Brett also grew up around the family business and returned to Space Centre after pursuing other employment opportunities. Like his brother, Brett started in maintenance and at the front desk then later started taking on security projects such as setting up cameras and sensors.
The management change comes as Space Centre Storage has some significant projects in the works.
Besides applying a fresh coat of paint to doors and walls, the brothers have overseen the installation of new gates and upgrades to the facility's security system. They are looking at changing the centre's hours of operation.
"We also have some big projects coming down the line next summer, with the development of a new lot for commercial lease units," Cameron says. "We already have a dozen lease units, that are in high demand and don't stay vacant for very long."
Open throughout the COVID-19-caused state of emergency in BC, Space Centre Storage continues to take all protective measures, including daily sanitizing of all high-touch areas.
Both brothers are also looking forward to building on Space Centre's already established reputation as an excellent place to do business and work.
"My goal is to continue building a team environment. I want our employees to be happy and taken care of so that positive mood reflects on the customer experience," Brett says.
"I would also like to build on our community presence," Cam adds. "We would like to get more involved with events such as the annual Terry Fox Run and the Soles4Souls charity, which we supply with MI-BOX® portable storage containers."
Space Centre Storage is open from 8 a.m. to 8 p.m., Monday through Saturday and from 10 a.m. to 5 p.m. on Sundays and holidays. Contact SpaceCentreStorage.com for more information.
About Space Centre Storage:
In business since 1985, Space Centre Storage is the largest and most established storage facility in Kelowna. With just under 350,000 square feet of space, Space Centre Storage provides customers with secure and convenient storage solutions, including self-storage, heated storage units, drive-through or drive-up access, mini warehousing for businesses, RV and boat storage, MI-BOX® storage containers, shipping and receiving, as well as full-service moving and storage needs.