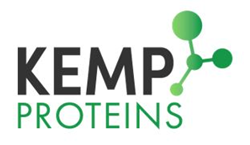 "Since joining us in June 2020, Carter has had a major impact on our use of technology and new methodology for protein purification." said David Hicks, COO, Kemp Proteins
FREDERICK, Md. (PRWEB) February 02, 2021
Kemp Proteins, a leading provider of gene-to-protein and monoclonal antibody development services, announced today that the company has appointed Carter Michell, Ph.D. as its new Chief Scientific Officer (CSO). Carter will lead the scientific and technology development of Kemp Proteins as the company continues its impressive growth following its purchase by Six02 Bioservices in January 2019.
Carter Mitchell is a leading protein chemist and structural biologist with 20 years of proven experience in expressing, isolating and characterizing difficult proteins from a variety of recombinant and natural sources. Prior to joining Kemp Proteins as Chief Technology Officer in mid-2020, Carter served as the Chief Technology Officer and Director of Structural Biology at a biotech start-up. In that role, he developed the internal processes for protein drug candidate expression and isolation and managed the protein production and purification teams. Carter has also received the Director's Innovation Award at the National Cancer Institute for the isolation of bioactive proteins from marine aqueous extracts, which required creative purification strategies. Carter will take over the role of CSO from the founder of Kempbio (now Kemp Proteins) Chris Kemp, who will take up a long-term advisory role as Scientist Emeritus for Kemp Proteins.
"Since joining us in June 2020, Carter has had a major impact on our use of technology and new methodology for protein purification" said David Hicks, COO. "His wide experience and understanding of protein purification have enabled us to greatly enhance our approach to discussions, planning and purification for our clients. In his new role, coupled with his knowledge and experience we expect him to have a similar impact in the rest of the company."
Michael Keefe, CEO of Kemp Proteins commented, "Chris Kemp built Kempbio, a company that was respected for its ability to express the most difficult proteins and antibodies and providing superior service through in-depth interactive discussions with our clients. As CSO, Carter will continue the Kemp tradition of scientists working with scientists to deliver novel and often difficult-to-produce proteins."
About Kemp Proteins (http://www.kempproteins.com)
Kemp Proteins (formerly Kempbio) is a leading provider of gene-to-protein, hybridoma and cell line development services. For more than 20 years, Kemp's team of protein problem-solvers has delivered best-in-class services that optimize productivity and mitigate risk for life sciences innovators developing protein-based products, including human and veterinary diagnostics, biopharmaceuticals, and vaccines. Kemp Proteins is a Six.02 Bioservices member company.
About Six.02 Bioservices (http://www.six02bio.com)
Six.02 Bioservices is a holding company focused on acquiring and managing a family of companies that will provide a continuum of best-in-class research services and products to protein-based innovators across the life sciences. The Six.02 Bioservices name reflects Avogadro's number (6.023 x 1023), defined as the number of atoms or molecules per mole of any substance. The mole is a bridge between our world and the microscopic world—for example, a protein is 3×10-9 moles. Six.02 Bioservices was incorporated in 2018 on Mole Day (October 23), a date celebrated between 6:02 a.m. and 6:02 p.m. by scientists around the world.