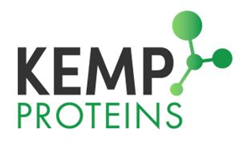 "The addition of a proprietary technology for Stable Cell Line Development represents an important milestone and reflects our commitment to growing our company with high-quality bioservices technologies." - Michael Keefe, CEO, Kemp Proteins
FREDERICK, Md. (PRWEB) December 08, 2020
Kemp Proteins LLC, a leading provider of gene-to-protein, and monoclonal antibody development services, today announced that the company signed Strategic Partnership and Material Transfer Agreements with ArtiaBio Inc, a company specialized on the development of biopharmaceuticals, parental cell lines and highly productive expression vectors. The agreements demonstrate Kemp's commitment to building a broad complement of bioservices focused on providing biopharmaceutical and diagnostic clients with world-class protein related development services.
Under the Agreements Kemp Proteins will gain access to ArtiaBio proprietary parental cell and vector technology for development of highly productive cell lines and cost effective, rapid manufacturing processes. ArtiaBio has the experience and history of developing highly productive recombinant cell lines and media for cGMP-ready manufacturing processes and will transfer its own cell lines, vectors and technical know-how to enable Kemp Proteins to consistently provide cell development services under ISO quality systems to meet client requirements. The cell lines developed using the ArtiaBio technology will not be royalty bearing and no license fee is applied on success, a distinct delineation between Kemp Proteins and other cell line development companies using their own proprietary technology.
"Since Six.02 Bioservices purchased Kemp in 2019, it has been our goal to develop the company into so much more than a world class gene-protein service company. Building out the hybridoma development facility and now the Stable Cell Line Development Service all under our ISO Quality System, demonstrates a continuing successful implementation of our strategy plan," said Michael Keefe, CEO for Kemp Proteins. "The addition of a proprietary technology for Stable Cell Line Development represents an important milestone and reflects our commitment to growing our company with high-quality bioservices technologies."
Sadettin Ozturk, President and CEO of ArtiaBio commented, "The Agreements with Kemp Proteins represent a strategic direction for ArtiaBio as the company becomes more focused on developing our own biopharmaceuticals while providing services to the industry. Working with the team at Kemp we will ensure that our highly productive, proprietary vectors and cell lines will enable others to develop stable cell lines expressing proteins of interest. This technology has been used to develop a number of novel and biosimilar processes and I am sure others will benefit from using this technology in their own programs."
About Kemp Proteins (http://www.kempproteins.com)
Kemp Proteins (formerly Kempbio) is a leading provider of gene-to-protein, hybridoma and cell line development services. For more than 20 years, Kemp's team of protein problem-solvers has delivered best-in-class services that optimize productivity and mitigate risk for life sciences innovators developing protein-based products, including human and veterinary diagnostics, biopharmaceuticals, and vaccines. Kemp Proteins is a Six.02 Bioservices member company.
About ArtiaBio (http://www.artiabio.com)
ArtiaBio is a dynamic company focused on the development of biopharmaceuticals. The advanced technology in cell line and process development combined with the utilization of advanced bioprocess technology enables development of highly effective manufacturing processes that can provide the biotechnology-based drugs at an affordable price. The company has experience and expertise in a broad range of product development, including monoclonal antibodies, blood coagulation factors, therapeutic enzymes, and fusion proteins.