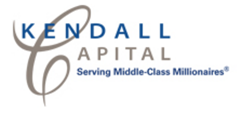 "I am proud to announce these promotions, and honored to call these accomplished professionals my colleagues. Their abilities strengthen our capacity to serve even more of the Middle-Class Millionaires® seeking expert wealth management in the DMV region and beyond." -Clark Kendall
ROCKVILLE, Md. (PRWEB) March 09, 2021
Kendall Capital, the Rockville-based fee-only fiduciary wealth management firm, announces the promotions of four key leaders today. The advancements come amid Kendall Capital's impressive and steady growth over the past year. The fiduciary advisor firm went from $300 million in assets under management (AUM) to over $385 million in AUM in less than a year — an amazing expansion anytime, but all the more so during a global pandemic.
"These strategic appointments play a key role in supporting our rapidly expanding client needs," said Kendall Capital President & CEO Clark Kendall, CFA, AEP®, CFP®.
The firm promoted:

"I am proud to announce these promotions, and honored to call these accomplished professionals my colleagues," said Kendall. "Their abilities strengthen our capacity to serve even more of the Middle-Class Millionaires® seeking expert wealth management in the DMV region and beyond."
About Kendall Capital
Kendall Capital is a wealth management firm providing fiduciary financial planning and investment management services to Middle-Class Millionaires® in the Washington, D.C. metropolitan area. The firm currently manages client assets of more than $385 million. President and CEO Clark Kendall is the author of "Middle-Class Millionaire" and says "Middle-class millionaires are more common than you may realize. While you may not consider yourself a millionaire, you may have accumulated over $500,000 or more in investable assets through disciplined saving and investing, a timely inheritance or a combination of all three." Kendall Capital is a fee-only, fiduciary financial adviser firm. It does not receive commissions from anyone for recommending specific investments in order to serve their clients' best interests.