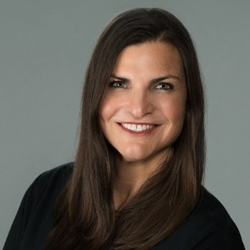 Kenna's experience in the education technology market is invaluable as Unicon expands its focus to support the changing needs of the learning community," said Unicon CEO, John Blakley.
GILBERT, Ariz. (PRWEB) August 26, 2020
Unicon, Inc., a leading technology consulting firm, today announced that Kenna Ose has joined Unicon as its Vice President, Market Development. Ose has an extensive background in education technology, learning, and workforce readiness.
"We are excited to have Kenna join the Unicon team. Kenna's experience in the education technology market is invaluable as Unicon expands its focus to support the changing needs of the learning community," said Unicon CEO, John Blakley. "Under Kenna's leadership, Unicon business development and marketing will expand Unicon's brand as a strategic and innovative digital learning solutions partner."
Ose has spent equal parts of her career in educational technology and workforce readiness leading organizations focused on learning, upskilling, and employability. With a foundation in Student Affairs and an extensive career in education technology, Ose will champion the learner-centric approach to optimizing content, technology, and security.
"Never has the global learning community been so dependent on technology to drive engagement across a school, institution, or organization. Understanding the Learner Journey is critical to effective teaching, learning, and training. Evaluating those technology touch points, mitigating barriers, and using data to make good decisions are keys to success," said Ose. "I'm honored to join Unicon and expand its hallmark reputation as a trusted advisor to the greater learning community."
About Kenna Ose
As Vice President, Market Development, Ose will join the Executive Leadership Team and further Unicon's presence in the education technology market. Ose will lead the Business Development and Marketing organization and champion Unicon's role as a trusted advisor to senior K-12, higher education, and industry leaders challenged with supporting an optimized infrastructure for teaching and learning.
Throughout her career, Ose has developed teams and strategies to move organizations toward future growth based on market trends and strategic restructuring. Ose has been focused on the impact of industry on higher education and has worked to create employability strategies that bring academia and industry together to support the changing demographics in K-12 and higher education, specifically the need for skilling and skills gap solutions across industry.
About Unicon
Unicon is a leading technology consulting firm focused solely on the educational ecosystem in K-12, Higher Education, and Workforce. Unicon is a Contributing Member of the IMS Global Consortium, a Commercial Affiliate of the Apereo Foundation, a Trust and Identity solutions provider in the Internet2 Industry Program, an Industry Member of the Internet2, an InCommon Participant, Instructure Certified Partner, an Okta Premier Solutions Provider, a community member of the Ed-Fi Alliance, and a GSA Industry Partner. Unicon is also an AWS Partner Network (APN) Advanced Consulting Partner, has achieved the AWS Education Competency, and is a member of the AWS Public Sector Partner Program.
Unicon has been supporting the learning community for over 27 years and has been the technology backbone for many organizations leveraging Unicon's technical and domain expertise as well as its client-centered approach to solutions delivery. Unicon partners include public and private schools, over 400 colleges and universities, and education technology companies.
Now more than ever, Unicon's expanded services are well-positioned to provide both short term and long term support for technical solutions and rich online learning experiences in response to the current pandemic. Creating effective technology interactions take on new meaning as institutions and leadership prepare amid pandemic circumstances. Engagement and limiting barriers to engagement will be the differentiator among school systems, institutions, and organizations.
# # #
Unicon is a Registered Trademark of Unicon, Inc. All other product or service names are the property of their respective owners.