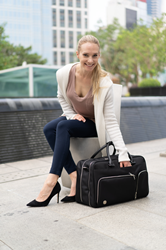 The Kennedy Weekender offers a minimalistic, stylish and functional design...premium hardware has been combined with leather trim to create a classic look, it has plenty of pockets for all travel essentials and, with 33 liters of usable space, it can easily hold up to three days of clothing.
LOS ANGELES (PRWEB) October 22, 2019
The Kennedy Weekender, a high-quality travel bag from Oak & Rove that combines function and sophisticated style to keep busy people organized and make their travel experience smoother, is now available on Indiegogo.
The Kennedy Weekender was designed to solve many problems travelers have with other bags on the market today.
"Our research showed travelers wanted a lighter bag, so the Kennedy Weekender weighs only 3.7 pounds, and is made with a trolley sleeve so that it can be conveniently placed on top of a roller suitcase for extended trips," said Oak & Rove Founder and CEO Harrison Bevins. "We removed the bulk, so our bag is compact enough to take as a carry-on with ease."
The Kennedy features three compartments: an external shoe compartment, main clothing compartment and tech compartment – that each make packing and organizing easier than ever. Additional internal pockets are useful for toiletries, dirty clothes or miscellaneous items. It includes two easy-access front pockets for passport, wallet, phone and other accessories.
Overall, Bevins says The Kennedy Weekender offers "a minimalistic, stylish and functional design." Premium hardware has been combined with leather trim to create a classic look, and the Kennedy has plenty of pockets for all travel essentials. With 33 liters of usable space, it can easily hold up to three days of clothing.
"With its thoughtfully placed pockets and compartments and lightweight and compact design, it will keep any busy professional organized while on the go," he said. "It also meets TSA carry-on requirements for easy in-and-out through airport security."
The Kennedy Weekender Travel Bag also features:
● 100 percent recycled plastic material for body of the bag.
● Water-resistance
● A compartment that holds up to a 15-inch laptop
● An iPad/Kindle sleeve
● Space for charging cables, batteries other small personal items
● An RFID pocket for credit cards or other sensitive items
● An external easy access document sleeve
● Trolley sleeve on back
● A waterproof shoe compartment
● An internal waterproof pocket to separate dirty clothes from clean ones
● An internal water bottle holder
● Full grain leather handles, shoulder strap pad, and trim
● Premium YKK Excella Zippers
● Five metal feet on underside to keep bag separated from ground when stationary
The Kennedy Weekender is also versatile enough to be used at the office to carry documents, a work computer and personal items, used at the gym before or after work, used for short trips to the coffee shop or a co-working space when personal belongings are needed for the day.
"We wanted something that looked good but was also versatile enough to take to the gym, a bar, or to a meeting," he said. "Most importantly, I wanted it to function as a travel bag that I could use for short, two-to-four-day trips. While visiting family in Los Angeles, I was inspired by the mix of urban business environments and casual seaside hangouts in creating the look and feel of this new bag."
In the Kennedy Weekender, Bevins says the team has "created a brand that encapsulates this idea of work and play…and with a mix of eco-friendly and luxury."
For more information, and to purchase the unique and stylish travel bag at an early-bird discount during crowdfunding, visit The Kennedy Weekender Page on Indiegogo.
About Oak & Rove
Oak & Rove seeks to create and promote an elevated lifestyle by providing its customers with the highest quality and stylish travel bags. The Los Angeles-based company strives to grow its business and satisfy each customer with the same passion and integrity it uses to create its products: using ethical methods, sustainable materials and excellent design. For more information, visit https://launch.oakandrove.com/.