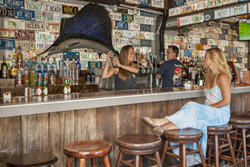 "I thanked Kenny for using the photo of my Half Shell Raw Bar for his new single," Croce says. "His immediate response was to offer to have the art printed up and sent to me. He's just a genuinely good guy."
Key West, FL (PRWEB) August 15, 2013
Anyone who knows and loves the Half Shell Raw Bar will recognize the cover art gracing "When I See This Bar," Kenny Chesney's second single off his latest and deeply personal album "Life On A Rock;" It is his seventh Billboard all-genre Top 200 Albums #1 debut. "The entire Half Shell staff is thrilled about the bar making the album cover," says general manager Roland "Snoop" Granger.
"Chesney fans are already coming in to sit on the bar stools featured on his album," bartender Molly Weaver reports. Along with the well-worn stools, the shot captures the bar's extensive draft beer taps, a large sailfish sculpture, and license plates from all over the world covering the walls. The vibe is casual, timeless, and laid-back, just like Chesney and his music.
The legendary dockside destination, now owned by former Philadelphia 76ers President Pat Croce, embodies exactly what "When I See This Bar" celebrates: A special place that inspires lifelong memories of great times and feelings of connection and belonging.
Of his inspiration for the song, Chesney says: "Having played it for people since the record came out, I started to realize: What's so incredibly personal for me…is just as personal to everyone I've played it for. Only they all have a very specific bar where it happened to them! Hung out with friends, fell in love, fell apart – and that's why I figured this did make sense as a single."
The high-energy performer emphasizes an introspective songwriting streak in "When I See This Bar," which he performed on Good Morning America on Friday, August 9, 2013 after making recent appearances on Late Night with Jimmy Fallon and The Tonight Show With Jay Leno. The album, Life On A Rock, has earned critical acclaim in publications ranging from USA Today to Entertainment Weekly. Chesney's summer 2013 No Shoes Nation Tour has sold well over a million tickets for shows in nineteen stadiums.
The eight-time Country Music Association and Academy of Country Music Entertainer of the Year loves to visit Key West and spends much of his time off in his "home-away-from-home." He has recorded at Jimmy Buffett's Key West recording studio - Shrimpboat Sound. His intimate video for "When I See This Bar" captures the feel that gives this relaxed yet creatively charged island its resonance. It depicts Chesney playing acoustic guitar with footage of late-night bar jams and photos of him surrounded by friends. Chesney's single cover shows his fans exactly where to go in Key West for the same kind of unforgettable experience.
About Half Shell Raw Bar
The Half Shell Raw Bar offers a taste of old Key West. Laid back, friendly and casual, the Half Shell Raw Bar is located right on the docks at the Historic Key West Seaport. Visitors indulge in such delights as broiled garlic oysters, baskets of fish and chips, steamed middleneck clams, chilled Key West peel and eat shrimp, and the ultimate treat, Half Shell's conch ceviche - all while gazing out at the pelicans gliding over the water, watching the boats arrive into the harbor and witnessing the world famous Key West sunset. Half Shell Raw Bar is located at 231 Margaret Street, Key West, Florida 33040. Their phone number is 305.294.7496.
Photo Attached (Low rez); (High rez available upon request)