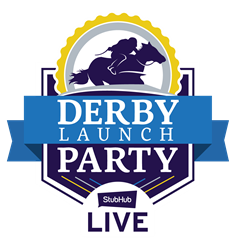 We're bringing Guy Fieri into Louisville along with Iconic DJ Irie to set the stage for Derby weekend. - Bullseye Event Group CEO, Kyle Kinnett
Indianapolis, IN (PRWEB) April 03, 2017
"We are thrilled to partner again with the most innovative ticket marketplace in the entire secondary ticket industry in StubHub," said Bullseye Event Group CEO Kyle Kinnett. "We're bringing Guy Fieri into Louisville along with Iconic DJ Irie to set the stage for Derby weekend."
Bullseye Event Group has earned the reputation of hosting the best events prior to major Sporting Events in the US. Events that include celebrities, athletes and the top chefs. Bullseye Event Group's parties are best described as culinary events with the opportunity to see and be seen by some of the biggest name professional athletes and celebrities alike. At the Super Bowl Bullseye Event Group's Players Tailgate was voted as the #1 Super Bowl Game Day experience and Bullseye Event Group and StubHub Live are bringing that to the Derby in Louisville.
Celebrity Chef Guy Fieri is hosting the Celebrity VIP Party Friday night, May 5, 2017 from 9:00 p.m. - 3:00 a.m. at the Tavern on 4th. The Derby Launch Party will feature a five-star menu created by Fieri along with America's greatest caterer, Aaron May. DJ Irie will be providing his world-class entertainment to kick off Derby weekend. As the first professional sports franchise DJ in the United States, DJ Irie is the official DJ of some of the most iconic brands in the world, such as Carnival Cruise Lines, the Miami Heat, Target, Mountain Dew Kickstart, Evian, Jamie Foxx and more, making himself one of the most established DJ's in the industry.
The Derby Launch Party will also feature an open premium bar along with a local Kentucky Bourbon tasting station. Guests will enjoy the VIP party lined with private tables and an abundance of soft white leather furniture where you can see and be seen in comfort. It is an amazing experience that offers you celebrities, incredible food by the most recognizable chef in America and music by one of the top DJ's in the US.
When it's time for Derby weekend there isn't a better option to kick it off than the Derby Launch Party hosted by Guy Fieri.
Tickets to Derby Launch Party can be purchased directly from BullseyeEventGroup.com or StubHub.com
About Bullseye Event Group
The official events and travel partner of the Indianapolis Colts, Bullseye Event Group offers fans VIP experiences as a secure, official source for travel, hotel, pre-game parties and game tickets. Bullseye is a direct and dependable source for tickets to the Colts VIP Tailgate, Super Bowl travel packages, the Players Tailgate at Super Bowl LII, Gate 6 Hospitality at the Masters and more. To learn more about Bullseye Event Group, visit BullseyeEventGroup.com.