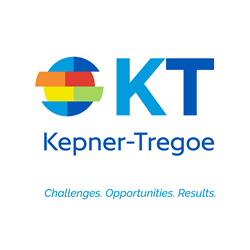 PRINCETON, N.J. (PRWEB) November 02, 2021
Kepner-Tregoe (KT) the global consulting and capability development firm, has launched a new corporate website. The modern and innovative design reflects the recently updated brand identity and highlights a user-centric responsive resource across all platforms and devices. The new concept streamlines access and makes it easier for users to learn and locate information about KT's consulting services and capability development solutions. The new website also includes case studies, event information, capability development offerings, global contact information, and the features and benefits of KT services to 15 distinct industries.
Earlier this year the brand identity of KT evolved from a monochromatic design to a modern contemporary style with a new corporate logo. This evolution is clearly reflected in the aesthetics of the new website. All the brochures, blogs, case studies, white papers, and articles have been updated and recrafted. New within this website, is also a multi-tiered badge program to complement KT certification levels. These new digital badges symbolize and acknowledge the increasing expertise of Kepner-Tregoe practitioners, facilitators, coaches, and program leaders. Also available on the new site is a redesigned portal called "My KT" that provides learning support materials, tools, and resources for KT training participants.
"The new website was developed with our clients in mind, and specifically to provide easy access to valuable information in key areas of the global industries we serve. We are very proud of the fact that 94 of the Fortune 100 companies use KT. This new website will improve and enhance their access to a wealth of insightful content."
-Bill Baldwin, CEO
About KT:
At Kepner-Tregoe, we believe in thinking differently. We strongly believe in challenging the performance of systems in order to sustainably improve them. Our methodology is designed to achieve excellent results with speed and simplicity.