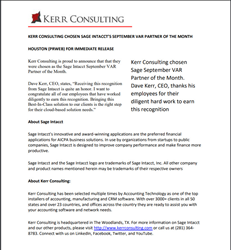 Kerr Consulting chosen Sage September VAR Partner of the Month. Dave Kerr, CEO, thanks his employees for their diligent hard work to earn this recognition.
THE WOODLANDS, Texas (PRWEB) October 31, 2018
Kerr Consulting is proud to announce that that they were chosen as the Sage Intacct September VAR Partner of the Month.
Dave Kerr, CEO, states, "Receiving this recognition from Sage Intacct is quite an honor. I want to congratulate all of our employees that have worked diligently to earn this recognition. Bringing this Best-In-Class solution to our clients is the right step for their cloud-based solution needs."
About Sage Intacct
Sage Intacct's innovative and award-winning applications are the preferred financial applications for AICPA business solutions. In use by organizations from startups to public companies, Sage Intacct is designed to improve company performance and make finance more productive.
Sage Intacct and the Sage Intacct logo are trademarks of Sage Intacct, Inc. All other company and product names mentioned herein may be trademarks of their respective owners
About Kerr Consulting:
Kerr Consulting has been selected multiple times by Accounting Technology as one of the top installers of accounting, manufacturing and CRM software. With over 3000+ clients in all 50 states and over 23 countries, and offices across the country they are ready to assist you with your accounting software and network needs.
Kerr Consulting is headquartered in The Woodlands, TX. For more information on Sage Intacct and our other products, please visit http://www.kerrconsulting.com or call us at (281) 364-8783. Connect with us on LinkedIn, Facebook, Twitter, and YouTube.
About the AnyWare Product Line:
ASSET MANAGEMENT ANYWARE Provides a single point for managing the repair and maintenance of all asset types (machinery, equipment, facilities, buildings, vehicles, etc.) and integrates to Sage Enterprise Management (X3) and provides both preventative and predictive maintenance.
BANK LINK ANYWARE Debuts Sage Intacct Advantage 2018 conference! Provides a real-time feed from your financial institution and makes your cash balancing task an easy process.
ENTERPRISE ANYWARE A pre-configured Enterprise Management solution. Designed for growing companies that need an affordable enterprise ERP solution NOW that will grow with the company.
QUALITY CONTROL ANYWARE A complete QC / Certification / Customer Specification module fully integrated with Sage Enterprise Management (X3) and includes specific solutions for Food Safety, Beverage Safety, Pet Food Safety, Pharmaceutical Safety, and Manufacturing Safety.
WORKFLOW ANYWARE Moves business processes to a paperless environment and creates a process-based approval structure in the organization for any type of transaction.