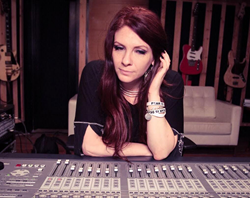 Everything I've done up to now has prepared me for this role, and being surrounded by such immense talent, support, and guidance is very reminiscent of my time learning at SAE Institute.
New York, NY (PRWEB) September 22, 2017
Kerry Pompeo, alumna of SAE Institute New York, recently completed production masters of the 4-disc box set for Isaac Hayes, 'The Spirit Of Memphis (1962-1976),' released by Stax Records on September 22, 2017.
She was assistant to mastering engineer Paul Blakemore, carrying out her work at Concord Music's mastering facility in Cleveland, Ohio.
"It's such a diverse collection of music - with masters coming from a variety of formats - that highlight a quintessential moment in soul music and the Stax catalog," says Kerry. "Carrying out Paul's work in his pristinely designed listening environment and hearing these cuts, which have been sampled into the soundtrack of my youth, was a very humbling moment."
Pompeo is an experienced recording engineer, having worked in studio, live sound, and audio post production since completing the Audio Technology Program at SAE Institute in 2004. In June 2017, she joined the A&R team of Concord Music, an independently owned company comprised of over a dozen active recording labels, which also oversees publishing and licensing for nearly 400,000 musical works.
With studio hubs in Los Angeles, Cleveland, Nashville and now New York City, Kerry joins the ranks of Concord Music's stellar audio professionals, providing the group's artists and songwriters with recording, editing, and mixing services. In addition, Kerry creates production masters for new releases and catalog rereleases for delivery to physical product manufacturing (Vinyl and CD) and digital distribution (Mastered For iTunes and High-Resolution downloads).
"Concord Music has given me the ability to foster a space that allows creative ideas to flow. I find almost nothing more satisfying than being the technical liaison between artist and machine. Everything I've done up to now has prepared me for this role, and being surrounded by such immense talent, support, and guidance is very reminiscent of my time learning at SAE Institute."
When Kerry is not pushing up faders, she enjoys speaking to budding engineers on SAE Institute panels, mentoring young ladies at the Lower Eastside Girl's Club, delving into immersive audio techniques, and researching use of blockchain technology for music rights management. With many new projects on the horizon, be sure to keep Kerry Pompeo on your radar, while she continues to hone her craft of creative recording and music production.
About SAE Institute
SAE Institute provides aspiring creative media professionals with a foundation of practical theory and valuable hands-on training in their chosen areas of concentration. Under the guidance of industry-experienced faculty, students gain the essential experience they need for entry-level jobs in the creative media industry. Students are supported in their job searches by SAE Institute's international network of alumni, many of who are leaders in the music, film, game arts, and live performance arenas. SAE Institute offers accredited programs in Audio, Animation, Film, Games, and Entertainment Business focused on preparing students for employment in the creative media industry upon graduation. SAE Institute Group, Inc. is a part of Navitas LTD. Learn more at usa.sae.edu.
About Navitas
Navitas is an Australian global education leader, providing pre-university and university programs, English language courses, migrant education and settlement services, creative media education, student recruitment, professional development, and corporate training services to more than 80,000 students across a network of over 120 colleges and campuses in 31 countries. Learn more at Navitas.com.