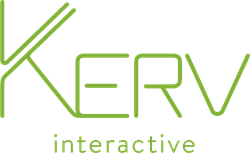 KERV's diverse Visibility, Context/Keyword, and Pause APIs help brands optimize their videos for consumer experience, product knowledge, and shoppability.
AUSTIN, Texas (PRWEB) April 20, 2021
KERV Interactive, a recognized technology company specializing in visual IR driven interactive video for brands, has released three powerful, pixel edge video AI driven APIs – Visibility, Context/Keyword, and Pause – that leverage its award-winning patented technology.
KERV partners with brands to transform their video assets into fully interactive storefronts (with pixel-level customization), targeted and full of shoppable information that both enhances usefulness and commerce opportunities. KERV's custom, dynamic interactive ad technology increases a video's consumer engagement, boosts shoppability by over five times, generates more time spent with content assets and increases interactions – such as QR scans – by over 50 percent. KERV's AI driven engine fuels its real time interactivity and shoppability while also providing a powerful metadata set that can empower unique targeting and other API driven opportunities.
With KERV's Visibility API, any content can be processed (live, YouTube links, old content, influencer content, social media, etc.) with data provided back in near real-time. Content analytics include real time logo and product recognition, with the ability to identify object time spent within video content and reporting on visible time on screen for brand logos, talent, products, locations, or anything KERV can visually identify.
The Context/Keyword API focuses on ad break decisioning within LIVE and VOD video content. It features contextual targeting opportunities based on the relevance of content leading up to an ad insertion, with keyword-driven data sets as well as easy integration into existing ad servers and tech stacks. KERV is currently working on building this into infrastructures to power LIVE contextual opportunities across CTV and the broader video landscape.
KERV's Pause API is CTV focused and bundles both the contextual and visibility APIs together. The API can analyze content to assess relevance associations in real-time, enabling content owners to maximize and monetize the pause. KERV's visual search engine can correlate any content with any product feed to power revenue opportunities, such as shopping products similar to those within the pause and/or promoting products that are visible within in the content. The API works with both ads and content, and is fueled by KERV's robust object level metadata.
"Our APIs leverage our core technology and will change the way we view and monetize video," notes Marika Roque, COO of KERV Interactive. "KERV's diverse Visibility, Context/Keyword, and Pause APIs help brands optimize their videos for consumer experience, product knowledge, and shoppability."
To learn more, please contact Jeannine Jacobi of Fresh PR at 323-903-7063 or jeannine@freshpr.net, or visit https://kervit.com.
About KERV Interactive
Based in Austin, Texas, KERV Interactive is the world's most advanced interactive content and data company and is revolutionizing the future of video engagement through dimensional storytelling. KERV's digital advertising platform was built on cutting-edge, patented technology and adds extraordinary value to brands, agencies, and creative and data-science teams by creating audience-to-brand connections within video like never before. Leveraging breakthrough machine learning techniques and AI with unmatched processing speed, the KERV technology recognizes depth, dimension, and objects within a video just as precisely as the natural eye. KERV enables every frame in every scene of any digital video to be an immersive, interactive experience for consumers.