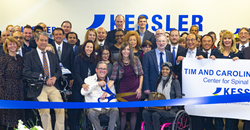 "Today marks a turning point in spinal cord injury research," said Rodger DeRose, president and CEO of Kessler Foundation. "We are confident that our investment in the Reynolds Center will reap returns that will forever alter the world's perspective of spinal cord injury."
EAST HANOVER, N.J. (PRWEB) January 27, 2020
More than 200 attendees witnessed the ribbon-cutting ceremony for the Tim and Caroline Reynolds Center for Spinal Stimulation at Kessler Foundation in West Orange on January 24.
The Reynolds Center for Spinal Stimulation, which is dedicated to restoring function to people with paralysis, occupies an 11,000 sq. ft. addition to the West Orange Campus shared by Kessler Foundation and Kessler Institute for Rehabilitation. The Center, which provides space for more than 50 researchers, houses five specialized laboratories equipped with the latest technologies. This new facility is named in honor of Tim and Caroline Reynolds of New Jersey, whose philanthropy supports advances in spinal cord injury research.
Gail Forrest, PhD, a leading scientist in the application of electrical stimulation in spinal cord injury research, serves as director of the Reynolds Center for Spinal Stimulation, and Steven Kirshblum, MD, as co-director. Dr. Kirshblum is senior medical officer and director of the Spinal Cord Injury Program at Kessler Institute, chief academic officer for the Select Medical Rehabilitation Division, chair of the Department of Physical Medicine and Rehabilitation at Rutgers New Jersey Medical School, and chief medical officer at Kessler Foundation.
Among those in attendance were First Lady of New Jersey Tammy Murphy, U.S. Rep. Mikie Sherrill of the 11th Congressional District (NJ), Senator Tom Kean Jr. from New Jersey's 21st Legislative District, Assemblywoman BettyLou DeCroce from the 7th Legislative District, Tim and Caroline Reynolds, the Foundation's Board of Trustees, and the leadership and staff of the Foundation and Kessler Institute.
"Today marks a turning point in spinal cord injury research," said Rodger DeRose, president and CEO of Kessler Foundation. "Based on the work of our scientists and their colleagues, we are confident that our investment in the Reynolds Center will reap returns that will forever alter the world's perspective of spinal cord injury." The Reynolds Center will also contribute to New Jersey's reputation in the scientific community, DeRose emphasized. "Exploring the complexities of paralysis means attracting top talent and competing for federal and state research grants. Thanks to the support of our donors, especially Tim and Caroline Reynolds, we have established the groundwork for success."
Research in spinal stimulation has been underway for more than a year at the Foundation, where Dr. Forrest's team is applying spinal stimulation externally, over the area of injury, to improve individuals' ability to move their arms and legs paralyzed by spinal cord injury. The next step, according to Dr. Forrest, is to apply stimulation directly to the spinal cord, a promising technique called epidural stimulation developed by researchers at the University of Louisville. Researching both methods – transcutaneous and epidural – places the Reynolds Center in the forefront of spinal stimulation research.
"We now know that the spinal cord is not just a conduit for nerve impulses to travel from the brain to end organs, but may have its own inherent abilities," noted Dr. Kirshblum. "Spinal stimulation can jump start the cord and enable the person to take advantage of those abilities," he explained. "The Reynolds Center for Spinal Stimulation allows us take the lead in setting new goals for recovery after spinal cord injury. While improving mobility is one of those goals, it is part of a bigger picture. We will also look at ways to improve spasticity, pain, control of blood pressure, cognition, fatigue, sexual function, and other complications that adversely affect the quality of life of people with spinal cord injury."
The implications of spinal stimulation research extend beyond those with paralysis and weakness caused by spinal cord injury, according to Dr. Kirshblum. "What we learn here at the Reynolds Center," he emphasized, "has the potential to help people with other disabling conditions as well."
To learn more about taking part in a study, write to: ResearchStudies@KesslerFoundation.org.
About Kessler Foundation
Kessler Foundation, a major nonprofit organization in the field of disability, is a global leader in rehabilitation research that seeks to improve cognition, mobility and long-term outcomes, including employment, for people with neurological disabilities caused by diseases and injuries of the brain and spinal cord. Kessler Foundation leads the nation in funding innovative programs that expand opportunities for employment for people with disabilities. For more information, visit KesslerFoundation.org.
Stay Connected
Twitter | http://Twitter.com/KesslerFdn
Facebook | http://Facebook.com/KesslerFoundation
YouTube | http://Youtube.com/user/KesslerFoundation
Instagram | http://Instagram.com/kesslerfdn
iTunes & SoundCloud | http://Soundcloud.com/kesslerfoundation
For more information, or to interview an expert, contact:
Carolann Murphy, 973.324.8382, CMurphy@KesslerFoundation.org.
Rob Gerth, 973.323.3675; RGerth@KesslerFoundation.org