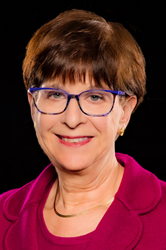 "The work we do at Kessler Foundation supports the spirit of the ADA, and honors the legacy of Alan Reich." - Elaine Katz, Kessler Foundation
EAST HANOVER, N.J. (PRWEB) October 01, 2020
Kessler Foundation is the recipient of the 2020 Alan Reich Award for Exceptional Contribution in Disability Inclusion. The award was presented virtually on September 30 during the National Organization on Disability's (NOD) Corporate Leadership Council's Annual Forum, titled. "ADA at 30: What's Next?"
The online program, emceed by actors and disability advocates Danny Woodburn and Robert David Hall, featured remarks by NOD President Carol Glazer, NOD Chairman Tom Ridge, former governor of Pennsylvania, and U.S. Senator Bob Casey, panel discussions by corporate leaders and advocates on accessibility, technology, and the impact of COVID-19, as well as announcements of NOD's awards honoring organizations and employers for advances in disability inclusion.
The Alan A. Reich Award for Exceptional Contribution in Disability Inclusion memorializes Alan Reich, founder of NOD, who was disabled by spinal cord injury. In acknowledgment of his accomplishments through NOD, Reich received The George H.W. Bush Medal, an award created to reinforce the nation's commitment to keeping the promise of the ADA to all Americans and to encourage the spirit of the ADA throughout the world.
Elaine E. Katz, MS, CCC-SLP, senior vice president of grants and communications at Kessler Foundation, accepted the award from Governor Ridge. Katz expressed thanks to NOD on behalf of Kessler Foundation: "The work we do Kessler Foundation supports the spirit of the ADA, and honors the legacy of Alan Reich."
"As we heard today," Katz continued, "purposeful efforts are needed to continue to extend the promise of the ADA to all Americans. Kessler Foundation's efforts include the investment of over $270 million dollars in rehabilitation research that improves the cognition and mobility of people disabled by illness and injury. Restoring function is just the first step on the continuum to independence. Our research in vocational rehabilitation and disability employment explores new ways of transitioning jobseekers with disabilities to the workplace. To maximize outcomes, the Foundation also funds innovative employment programs to expand opportunities for competitive employment for individuals with disabilities."
"As the COVID pandemic continues to impact our society, workplace inclusion remains a cornerstone of independence for people with disabilities," Katz concluded. "It is the right of people with disabilities to be valued for their strengths, their right to have equal opportunities to succeed and grow professionally, and most importantly, to be compensated fairly for their work."
The Coca-Cola Company received the Charles F. Dey Award for Equal Opportunity, and disability rights advocate Judy Heumann accepted the NOD Lifetime Achievement Award.
During the event, CEOs shared the contributions of employees with disabilities to their organization's success, and reinforced their commitment to inclusive workforces at Charter Communications, Eli Lilly & Company, Hilton Worldwide, Marriott International, Prudential Financial, and Toyota North America. NOD also honored 68 companies with the NOD Leading Disability Employer Seal for their exemplary employment practices for people with disabilities.
About Kessler Foundation
Kessler Foundation, a major nonprofit organization in the field of disability, is a global leader in rehabilitation research that seeks to improve cognition, mobility and long-term outcomes, including employment, for people with neurological disabilities caused by diseases and injuries of the brain and spinal cord. Kessler Foundation leads the nation in funding innovative programs that expand opportunities for employment for people with disabilities. For more information, visit KesslerFoundation.org.