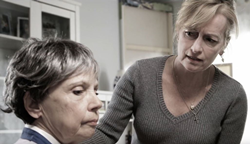 EAST HANOVER, N.J. (PRWEB) May 08, 2019
Anyone caring for a stroke survivor needs to know about hidden disabilities that impede recovery
In recognition of National Stroke Month this May, Kessler Foundation is launching an awareness campaign called "See the Whole Picture" with a new TV public service announcement about the disabling effects of spatial neglect, a common but under recognized complication of stroke, and new options for detecting and treating this hidden disability.
Stroke is a leading cause of disability in the United States. An estimated 7.2 million American adults are stroke survivors striving to recover. This number is likely to increase because the population is aging, and the stroke survival rate is improving. However, stroke survivors continue to regain functional independence after stroke for years with the right rehabilitation. Physical disabilities such as paralysis and weakness are widely recognized, but hidden disabilities can be just as disabling for stroke survivors. "See the Whole Picture" highlights one of these hidden disabilities - a complication called spatial neglect that impairs the person's 'internal GPS.'
Spatial neglect is a common complication that often escapes detection, with serious consequences for stroke survivors. Stroke survivors with spatial neglect have difficulty making accurate visual movements and interacting with their surroundings. They have a 6.5 times higher risk of falls, longer hospitalizations, and are 45% more likely to be discharged to a nursing home after rehabilitation. They may be misdiagnosed with dementia or low intelligence, and may never receive treatment for spatial neglect.
According to experts at Kessler Foundation, more than 50% of stroke survivors admitted to rehabilitation hospitals have spatial neglect and would benefit from diagnosis and treatment. Spatial neglect can interfere with performing daily activities such as self-care, reading, and navigating one's surroundings. Without treatment, individuals with spatial neglect recover more slowly, experience falls and are more likely to need ongoing care.
To raise awareness, Kessler Foundation has released a new 30-second PSA, available in English and Spanish. The PSA portrays a stroke survivor displaying one of the symptoms of spatial neglect – she is painting a picture of a vase of flowers, and is unaware that the left side of her painting is incomplete. This "neglect' of the left side of her environment affects other activities as well, such as self-care and operating a vehicle or wheelchair. "See the Whole Picture" raises awareness of spatial neglect and the growing number of rehabilitation facilities now offering treatment, using the tools developed at Kessler Foundation, a major center for the study of hidden disabilities affecting stroke survivors.
Stroke survivors who have spatial neglect may:

forget personal belongings on their left
fail to dress themselves appropriately on the left side
fail to react to sudden noises from the left
ignore food on the left side of the plate
collide into furniture or a wall on the right or left side
have difficulty reading, and may veer when driving and navigating their wheelchair
lack awareness of their own spatial neglect symptoms
Interview our Expert on Spatial Neglect
A.M. Barrett, MD, a cognitive neurologist, is director of Kessler Foundation's Center for Stroke Rehabilitation Research and is well known for her work in stroke-related hidden disabilities. Dr. Barrett, who appears in the "See the Whole Picture" PSA, led the Kessler team that developed the tools for diagnosing and treating spatial neglect. Her many publications include the emedicine review that is an important resource for professionals.
https://emedicine.medscape.com/article/1136474-overview
Dr. Barrett's goal is to promote the adoption of neglect assessment and treatment as the standard of care for stroke rehabilitation, and document patient outcomes to support insurance reimbursement.
Online Resources
As part of this campaign, online resources are available for stroke survivors, family caregivers, and medical professionals at KesslerFoundation.org. Here they can learn what spatial neglect is, how it affects stroke survivors, and gain insight into how they can help survivors "See the Whole Picture." Plus:

stroke survivors can sign up to be considered for research studies
caregivers can share their stories about coping with a loved one's stroke
professionals can find online training and tools for assessing and treating spatial neglect
Visitors will find additional resources including a list of the facilities in the Practice-based Rehabilitation Network (Practice-RRuN), a nationwide network of facilities that offer screening and treatment for spatial neglect. Practice-RRuN facilities have trained professionals to screen stroke survivors with the Kessler Foundation Neglect Assessment Process (KF-NAP™), and treat those with spatial neglect using the Kessler Foundation Prism Adaptation Treatment (KF-PAT™), an evidence-based low-tech intervention based on the use of prism goggles to reset the brain's 'internal GPS.' Professionals can learn more about the protocols and equipment needed to implement these tools at KFLearn.org.
About Kessler Foundation
Kessler Foundation, an internationally recognized nonprofit organization, is a leader in rehabilitation research that seeks to improve cognition, mobility, and long-term outcomes for people with neurological disabilities caused by diseases or injuries of the brain and spinal cord. Kessler Foundation also leads the nation in funding innovative programs that expand employment opportunities for people living with disabilities.
Learn more by visiting KesslerFoundation.org, Twitter, Facebook, YouTube.
Press Contacts
Carolann Murphy, PA
Senior Staff Writer
973.324.8382
CMurphy(at)KesslerFoundation(dot)org
Rob Gerth
Director, Communications
973.323.3675
RGerth(at)KesslerFoundation(dot)org