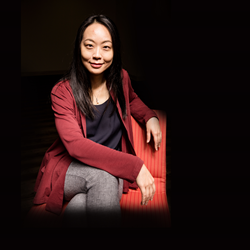 "The stress of caring for stroke survivors can affect the mental and physical health of caregivers and lead to decline in quality of life." Peii Chen, Kessler Foundation
EAST HANOVER, N.J. (PRWEB) October 01, 2020
Researchers at Kessler Foundation are conducting a study in family caregivers of stroke survivors, using an ecological momentary assessment method to collect data on caregivers' behavior and experience in real-time, real-life settings. Peii Chen, PhD, senior research scientist in the Center for Stroke Rehabilitation Research, is the principal investigator for the pilot study, "Ecological Momentary Assessment for Burden and Stress among Stroke Caregivers," which is funded by the New Jersey Health Foundation.
"The stress of caring for stroke survivors can affect the mental and physical health of caregivers and lead to decline in quality of life. These negative effects can be exacerbated when recovery is complicated by spatial neglect, a common but hidden disability that affects 30% to 50% of survivors. Spatial neglect increases the risk for falls, prolongs hospitalization, and impedes rehabilitation outcomes," explained Dr. Chen, "and complicates the job of caregiving provided by family members. Documenting stress levels and triggers is essential to developing interventions that lower stress and burden among family caregivers."
Instead of relying on traditional methods of self-reporting, Dr. Chen's study uses a technology-based experience sampling method (ESM) to record users' experiences as they occur naturally in daily life. The study incorporates a platform by ExpiWell that is useful for creating studies in clinical populations and collecting data via ESM. The platform's mobile app enables caregivers to enter their experiences in real time during everyday activities, avoiding the biases inherent in self-reporting. Participants in Dr. Chen's study receive prompts to use the mobile app to record their experiences four times a day for one week.
By facilitating the science of studying what people do, feel, and think in their day-to-day lives, ESM is emerging as a powerful tool for researchers in many fields, according to David Torres, PhD, CEO of ExpiWell. Using ESM increases external validity, an important consideration for researchers. "Less reliance on memory provides a more accurate picture of an individual's daily experiences," said Dr. Torres, "and with repeated measures over time, assessment error is reduced. With the app, researchers also gain the ability to collect images, video, and audio, greatly expanding the possibilities for data collection."
Dr. Chen plans to expand her research into stress reduction for caregivers. She sees potential for ESM in other areas of rehabilitation research as well. "This approach is promising for studies of other populations, especially those with cognitive issues that hinder treatment for stress and anxiety," she said. "We foresee the ability to manage the symptoms of stress remotely by implementing real-time intervention strategies through smart technologies like ExpiWell."
About ExpiWell, Inc.
ExpiWell was created by leading social scientists at Purdue University and is powered by the latest in Experience Sampling Methodology. ExpiWell provides researchers with cutting-edge mobile app technology alongside advance data visualizations and a participant marketplace. ExpiWell technology allows leaders to send pulse assessments to understand what their community is thinking, feeling, and doing in real-time. To learn more, visit: http://www.expiwell.com
About Kessler Foundation
Kessler Foundation, a major nonprofit organization in the field of disability, is a global leader in rehabilitation research that seeks to improve cognition, mobility, and long-term outcomes -- including employment -- for people with neurological disabilities caused by diseases and injuries of the brain and spinal cord. Kessler Foundation leads the nation in funding innovative programs that expand opportunities for employment for people with disabilities. For more information, visit KesslerFoundation.org.
For more information, or to interview an expert, contact:
Carolann Murphy, 973.324.8382, CMurphy@KesslerFoundation.org.