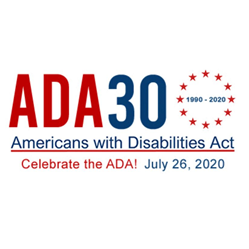 "The Foundation has invested more than $270 million in research to improve cognition and mobility for individuals of all ages with disabilities caused by neurological illness and injury," said Rodger DeRose, president and CEO of Kessler Foundation.
EAST HANOVER, N.J. (PRWEB) July 22, 2020
As the Americans with Disabilities Act (ADA) turns 30, we celebrate the many ways that this groundbreaking legislation has helped people with disabilities strive for inclusion, paving the way for greater participation in the nation's schools, communities and workplaces. Over the past 30 years, Kessler Foundation has conducted a broad scope of rehabilitation research and trained new generations of researchers to ensure that people with disabilities have the abilities they need to fully exercise their rights ensured by the ADA.
"The Foundation has invested more than $270 million in research to improve cognition and mobility for individuals of all ages with disabilities caused by neurological illness and injury," said Rodger DeRose, president and CEO of Kessler Foundation. "Through our partnerships with universities, hospitals, government agencies, and the business community, we are also expanding the evidence base for new solutions for successfully transitioning people with disabilities to the workplace," added DeRose.
The Foundation also invests in human capital through its national grant making program, which has distributed more than $49 million to support employment initiatives that promote inclusion of people with disabilities. "We focus our grant making on programs that offer equal access to employment as specified in the ADA," noted Elaine E. Katz, MS, CCC-SLP, senior vice president of the Foundation's Center for Grant making and Communications. "Investing in innovative business models that provide competitive jobs for people with disabilities sets an example of what can be achieved when we prioritize workplaces that are diverse and inclusive."
Workplace inclusion is fundamental to the mission of the Foundation, which views employment as the cornerstone of independence for people with disabilities. In partnership with the University of New Hampshire, the Foundation has funded a series of national surveys on disability and employment that are dispelling long held myths about the aspirations of people with disabilities and their contributions to the post-ADA workplace.
The latest in the series commemorates the ADA's 30th anniversary – the 2020 Kessler Foundation National Employment and Disability Survey: Recent College Graduates. "This survey provides objective evidence of the progress made by the first generation to come of age in the post-ADA era," Katz said. "They have successfully navigated the path to higher education, and have transitioned from college to work at the same rate as their peers without disabilities. Clearly, education is the key to employment for all young people, especially for youth with disabilities striving for independence."
The survey's topline results were announced in June via a national press release and a well-attended June 3 webinar: "The ADA Generation: New Perspectives on Employment and College Graduates with Disabilities." A second webinar featuring interviews with three young professionals, "The ADA Generation: A Dialogue with Recent College Graduates with Disabilities," was held on June 24, to relate the survey's finding to real-life experiences in college and the workplace. These webinars are available at: https://kesslerfoundation.org/researchcenter-employment-and-disability-researchemployment-and-disability-survey-2020/webinar-2020.
Recent college graduates play a major role in the Foundation's work, including research, communications, and fundraising. Vicky Queyquep, the Foundation's donor specialist, shared her college and job search experiences as a person with a disability, culminating in her fulfilling position on the development team. Queyquep's story illustrates how ADA advances in accessibility and the availability of counseling and support programs contribute to the success of college students with disabilities. Read Queyquep's story: https://kesslerfoundation.org/info/voices-ada-generation-college-work-story-victoria-queyquep and listen to her podcast: https://soundcloud.com/kesslerfoundation/college-to-work-story-a-young-woman-with-a-disability_vicky-queyquep.
In keeping with the ADA 30 theme, Kessler Foundation is a supporter of "ADA30 Lead On: Celebration of Disability Arts, Culture, Education, and Pride" a star-studded event produced, promoted, and made accessible to all by talented members of the media and entertainment fields, all of whom have disabilities. "We are pleased to join with many of our partners to help support this landmark celebration of disability talent, culture, and pride," said DeRose. The event, originally scheduled for a live venue in Washington, DC, transitioned to a virtual production when large gatherings were canceled due to the COVID-19 pandemic. ADA Lead On is scheduled to air on Facebook Live and YouTube on July 23, from 7:00-9:15 ET. https://preview.tinyurl.com/y2ez4ruh
"To continue to build on the gains achieved because of the ADA will require renewed commitment as we face the challenges of the coming decade," DeRose predicted. "Kessler Foundation will continue to be a force for good in the disability community, striving to fulfill the ADA's promise of "a bright new era of equality, independence and freedom," he concluded, quoting the words of President George H.W. Bush at the signing of the ADA in 1990.
About Kessler Foundation
Kessler Foundation, a major nonprofit organization in the field of disability, is a global leader in rehabilitation research seeking to improve cognition, mobility, and long-term outcomes including employment for people with neurological disabilities caused by diseases and injuries of the brain and spinal cord. Kessler Foundation leads the nation in funding innovative programs that expand employment opportunities for people with disabilities.
For more information on Kessler Foundation's research, visit KesslerFoundation.org
Contact: CMurphy@KesslerFoundation.org; 973-324-8382