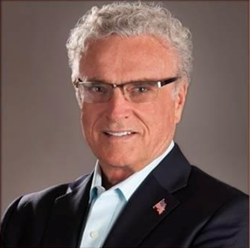 "If you love America, Thank a Vet,"
STOCKTON, Calif. (PRWEB) September 07, 2020
Kevin Patrick Dobson, actor and advocate for Veterans' causes, died peacefully in Stockton, California, at age 77 surrounded by his family. A deeply caring man, Kevin was a devoted husband, father and grandfather, cherishing his loving family above his many outstanding professional and charitable accomplishments, the family announced today.
The star of iconic television series Kojak (117 episodes, 1973-1978) and Knots Landing (291 episodes, 1982-1993). Kevin received the People's Choice Award for Best Actor and Leading Man for his benchmark portrayal of street-smart NYPD Detective Bobby Crocker on Kojak, the 5-year mega hit of the 1970s starring Telly Savalas. Kevin also starred for 11 years on the hit Knots Landing, portraying M. Patrick "Mack" MacKenzie, the powerful attorney whose TV character Kevin insisted also be a VA Volunteer. On the big screen, Kevin portrayed Navy Ensign George Gay in the 1976 epic Midway among countless other films, tv series and made for television movies. Kevin studied with famed acting coach Sandy Meisner.
A former Military Policeman in the U.S. Army, he was Chairman of the Veterans Committee of the Los Angeles Screen Actors Guild. Known in the military community for his frequent visits to VA facilities across America to help vets, Kevin twice served as Chairman of the VA's National Salute to Hospitalized Veterans and was recognized for his volunteer work by President George H.W. Bush in a private meeting in the White House Oval Office. Kevin also hosted the Veterans Inaugural Balls for Presidents Bush (41) and President Clinton (42). For his work to promote volunteerism at VA Medical Facilities, he received the AMVETS Silver Helmet Award for Americanism, the highest recognition given by a veteran organization.
Before acting, Kevin was a Conductor on New York's Long Island Railroad and would often be asked to call out station names when appearing on TV and radio talk shows. Just before his big break in Hollywood, he was working night shifts as a fireman on the Santa Fe Railroad in California.
Kevin won ABC-TV's First Celebrity All Stars Competition for his athletic ability and was a lifetime fan of the Los Angeles Dodgers. He played celebrity baseball games in most major league stadiums in America to raise money for various charities, including for homeless shelters where he often volunteered. Additionally, he and his wife hosted the Kevin Dobson Celebrity Golf and Tennis Tournament benefiting the John Wayne Cancer Institute for five years.
He is survived by his wife Susan, their daughter Mariah and sons Patrick and Sean (Meghan) and grandchildren Brady, Stella, Marlowe, Tiegan and Rylan. Kevin is also survived by sisters Jane and Mary, brothers Brian and Dennis and by many nieces, nephews and extended family. He was predeceased by brothers James and Ronald.
Born in Queens, New York to parents Rita and James Dobson on March 18, 1943, he passed away on September 6, 2020. In lieu of flowers, as Kevin would prefer and always said, "If you love America, Thank a Vet."