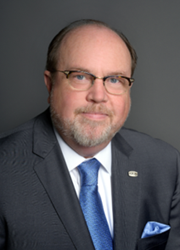 WASHINGTON (PRWEB) January 14, 2019
Today, Enforme Interactive (http://www.enforme.com) announced the appointment of Kevin Fitzpatrick as President and CEO. Fitzpatrick brings with him a long and successful career as a C-level association executive with experience in new business development, medical publishing, international programs, and organizational management.
Fitzpatrick joins Enforme Interactive after most recently serving as a senior advisor to PAIGE.AI, a computational pathology start-up using artificial intelligence and computer vision to enhance early cancer detection.
From 2015 to 2018, he served as the first CEO of CancerLinQ™, a rapid learning system for oncology and a subsidiary of the American Society of Clinical Oncology (ASCO). There he led CancerLinQ through its rapid nationwide adoption and initial strategic transaction.
Prior to CancerLinQ, he served for seven years as the Executive Vice President and Chief Innovation Officer of the American College of Cardiology (ACC), where he jointly led the organization's overall strategic and operational planning.
"Professional organizations play a vital leadership role in the healthcare community. However, they're struggling to stay relevant to a new generation of professionals. Societies are challenged to keep pace with the rapid growth of new knowledge and the technologic expectations of their members. Associations need new tools and new approaches to thrive amidst the accelerating pace of change in healthcare. I'm tremendously proud to be part of the Enforme team as we launch an exciting suite of association services, designed to specifically address these critical issues."
In his leadership role, Fitzpatrick will join Carrie Delente, a founder of Enforme Interactive, who will serve as COO. "In my long career serving professional associations, I've seen, firsthand, the increasing struggle to organize vast amounts of content, break down information silos, and efficiently serve the information needs of members," Delente said. "We're poised to roll out advanced computational services, augmented by artificial intelligence, that will provide hyper-personalized insights to both association executives and their members."
Teaming up with Enforme is a natural step in Fitzpatrick's career. "For over a decade, I've worked with Carrie and Eric Delente and the Enforme team in many different capacities," he said. "Together we've developed successful programs for a wide spectrum of professional organizations."
"We're delighted to have Kevin leading the team," stated Carrie Delente. "He brings with him a tremendous amount of experience in the healthcare space and has a proven track record of success. I'm certain that our present and future clients will greatly benefit from his wisdom and insights."
Enforme Interactive, a well-established custom solutions provider for medical associations, was founded by Eric and Carrie Delente in 1997. Enforme's award-winning team has provided non-profit associations with highly customized cutting-edge design, development, and technical best practices. From websites and apps to online learning, member management, and content delivery, Enforme provides essential services for professional associations across the globe.